WHY WE SHOULD SUPPORT
SOLAR ELECTRICITY

Everyone talks about the weather, but no one does anything about it. Or so they say. In fact, scientists around the world are increasingly convinced that human activities are changing the climate, largely as a result of the ways we produce and use energy. Global warming, the evidence suggests, is real. Each year billions of tons of greenhouse gases are emitted worldwide from smokestacks of power plants that burn fossil fuels. And unless we all do something about it, the problem will only get worse.
Global warming isn't the only problem stemming from the world's profligate use of fossil fuels. Electric power plant emissions contribute substantially to the air pollution that causes many of our most significant public health and environmental problems. Energy is vital to nations and people, and the demand grows constantly. It is estimated that some two billion people on Earth still have no access to electricity; nations are rushing to provide the benefits of affordable, reliable energy supplies. But the world will not have safe and sustainable energy supplies if all we do is replicate and multiply today's patterns of energy production and use. There must be real change and real improvement in the production and use of electricity.
Environmentalists working in the electricity arena have been strong advocates of increasing the efficiency of our electricity use. We will probably never eliminate all inefficient use of electricity, but even if we were wildly successful in becoming more efficient, the root problem--our dependence upon fossil fuels to make electricity--would remain.
Environmentalists have also pressed for vigorous enforcement of pollution controls and creative new cap-and-trade regulations. Properly structured and vigorously enforced, such systems can help drive the economy toward pollution-free options. But getting those options up and running requires work now.
For these reasons, growing numbers of environmentalists have realized that we must start work on problem Number One--the way we make electricity. Years of public and private research have given us new alternatives. The tools to fashion a truly sustainable energy future are now available in the form of renewable energy--using the power of the sun, the wind, the Earth's own heat, water, and sustainably harvested energy crops.
Among renewable energy options, none captures the imagination as vividly as solar electricity--photovoltaics (PV). PV is an energy option that works.
PV works by converting the sun's light energy directly into electricity. There are important environmental concerns in manufacturing solar cells, but once installed and operating, PV produces electricity with absolutely no pollution. Nearly everyone is familiar with solar electricity in hand-held calculators and other small electric devices. This use of solar energy has already kept millions o batteries out of landfills around the world.
Ready for the Next Big Leap
Over recent years, PV technologies have been refined and improved for large-scale use. Although further improvements are inevitable, these technologies are ready for the next big leap--commercial production for large volume electric use.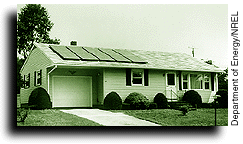 ---
PHOTO:Perfectly suited for rooftop electricity generation, photovoltaic panels as shown on this suburban home are a good option for mainstream America.
---
Taking this next step depends on getting costs down. A chicken-and-egg problem challenges many new technologies, from compact disc players to computers to video cameras: How can we expand use to drive prices down when getting prices down is the best way to expand use? The answer lies in finding the most valuable uses for PV technology today, and pushing them--thereby creating further cost efficiencies and more widespread use in the future.
This is where the environmental community can fill a critical role by building support for PV. The features of clean, renewable PV technologies are a near-perfect match with the environmental ethic:
Small and modular, PV can be "right-sized" to meet specific needs. PV is great for powering remote locations, such as park facilities, ranch operations, and emergency phones and lighting.
Flexible in application, PV is suitable for use in a wide range of locations and situations. PV can provide power to a rural home, a telecommunications station, or an entire village.
Clean, silent, and with no moving parts, PV is the least intrusive energy production technology. PV won't disturb wildlife in a park, won't pollute the air with smog, and never needs fuel.
High-tech and popular, PV projects are an excellent way for environmentalists to connect with the broader community. Polls and studies over the last 20 years show consistent, strong support for increased use of solar energy. PV projects led by local environmental groups are an excellent way to "think globally and act locally."
Changes in the electric utility business are creating new avenues for the public to speak and demand cleaner energy options. And many utilities, municipal governments, and others are beginning to see the benefits of investing in a clean energy future. EDF is not asking government to pick favorites, nor do we claim we can predict what will succeed in the market. Instead, we advocate research, involving both government and industry, and policies that favor clean, non-polluting forms of energy.
The problems associated with energy production and use are large and long-term, but there are things we can do today. As advocates of maintaining a healthy planet, environmentalists can and should become leaders in bringing clean energy solutions to our communities.
Written by: Karl R. - Environmental Defense Fund
---
RELATED LINKS:



Shop by Keywords Above or by Categories Below.

Updated Daily!
* * * IN-HOUSE RESOURCES * * *