THE NEW WAVE OF
ENERGY EFFICIENT REFRIGERATORS

The Story Behind A Crucial Appliance:

Refrigerators are so commonplace in this country that their monotonous hum blends into the background, along with car alarms, mating birds, or lowing cattle, depending on where you live. And yet, refrigerators turn out to be as significant as they are ubiquitous.
Refrigerators exemplify how Americans changed during the post-World War Two era. Energy consumed by refrigerators nearly quadrupled from 1950 to the mid-1970s. What's more, they were among the top contributors to the depletion of the ozone layer because of the freon circulating within them and the chlorofluorocarbons (CFCs) used to foam the insulation in their walls.
The Technical Fix
Twenty years later, refrigerators represent a victory of the technical fix -- changes that greatly reduce environmental impacts while remaining invisible to the consumer. Simple improvements have brought the energy consumption of the typical fridge down by more than 60% since 1972, with a further 10% expected when new standards go into effect in 2001. The aggregate effect of these changes has made about thirty large (Diablo Canyon or Seabrook size) power plants unnecessary. Substitutes for ozone-depleting substances have been developed and put into production, helping the US meet its treaty obligation to cease use of CFCs by 1995.
Despite all of these changes, the new generation of refrigerators are indistinguishable from their predecessors in terms of performance or convenience -- they keep the ice cream just as hard and chill six-packs every bit as fast. Indeed, the transformation of the fridge has been so complete that appliance activists are turning their attention to other machines where further gains can more easily be made. Clothes washers are top targets, as well as electronic equipment such as TVs and stereos which draw power even when turned off.
Refrigerators' energy use has dropped by two-thirds in the last 25 years.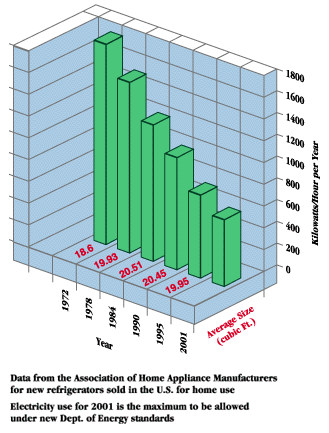 ---
RELATED LINKS:

Updated Daily!
* * * IN-HOUSE RESOURCES * * *