ENDING
DRY CLEANING EMISSION
OF PERC

As part of an overall strategy to reduce cancer risk to residents, the Southland's air quality agency is proposing to phase out the toxic chemical used at dry cleaners.
"The average dry cleaner poses a higher cancer risk to its neighbors than a typical oil refinery or power plant," said Barry Wallerstein, executive officer of the South Coast Air Quality Management District.
"Dry cleaners can help reduce health risks by switching from a known cancer-causing chemical to proven environmentally friendly alternatives."
If adopted, AQMD would be the first environmental agency in the nation to completely phase out the use of perchloroethylene – commonly known as "perc" -- at dry cleaners.
Following nearly two years of public consultation with dry cleaners and other interested parties, AQMD's Governing Board will consider adopting the measure during a Nov. 1 public hearing at its Diamond Bar headquarters. The Board meeting starts at 9 a.m. at AQMD, 21865 E. Copley Dr. (Thomas Guide map page 679, grid J3)
The measure, a proposed amendment to AQMD's Rule 1421, would gradually phase out the use of perc by 2019. In its place, dry cleaners could choose from several non-toxic alternatives including wet cleaning, hydrocarbon or silicone-based solvent cleaning.
"We recognize that most dry cleaners are small, mom-and-pop operations and that many are minority-owned," Wallerstein said. "We have carefully crafted our proposal to minimize the economic burden on these businesses."
In addition, Wallerstein said, AQMD is proposing up to $2 million in incentives for dry cleaners that switch to non-toxic alternatives before the rule requires them to do so.
AQMD staff is proposing that after Jan. 1, 2003, a new garment cleaning business, or an existing dry cleaner adding a machine, would have to choose a non-perc cleaning process. After July 1, 2004, any dry cleaning machine that is replaced – and any machine that is 15 years or older – would have to be replaced with a non-perc machine. The 15-year phase out is considerably longer than the typical eight- to 12-year life of a perc machine.
The rule would eliminate the 850 tons of perc emitted each year by the approximately 2,200 dry cleaners in the region.
According to a story in the Los Angeles Times, perc is used by 85 percent of dry cleaners in the area and represents the No. 1 contaminant of groundwater in the state. Laboratory studies show that perc causes kidney and liver damage and cancer in animals exposed repeatedly by inhalation and ingestion, according to the U.S. EPA.
Perc Known to Cause Cancer
Scientific health agencies that have examined the health effects of perc -- including the U.S. Environmental Protection Agency, the International Agency for Research on Cancer (a unit of the United Nations) and the state of California's Office of Environmental Health Hazard Assessment (OEHHA) -- have determined perc to be either a probable, possible or known carcinogen. Occupational health studies have found elevated rates of lung, cervical, esophagus, bladder and other cancers in dry cleaning workers. Laboratory studies of animals exposed to perc have found increased numbers of cancerous tumors in them.
Perc was identified as one of six key toxic air contaminants monitored in outdoor air in AQMD's landmark MATES II study of toxic air pollution reported in 2000. Even though dry cleaners have reduced their perc emissions by 80 percent during the last decade due to existing air pollution regulations, they still pose a relatively high cancer risk, in part because they frequently are located close to homes, businesses, schools, restaurants and child-care centers.
Based on AQMD's field sampling of actual perc use at dry cleaners and OEHHA's health effects assessment, Southland dry cleaners pose a cancer risk to nearby residents and workers ranging from about 20 to 140 in 1 million. Even if every dry cleaner in the region switched to the latest, state-of-the-the art perc machines, each still would pose a risk ranging from about 15 to 90 in 1 million. Almost all industrial and commercial facilities in the region -- including oil refineries, power plants and aerospace manufacturers -- pose a cancer risk of less than 10 in 1 million.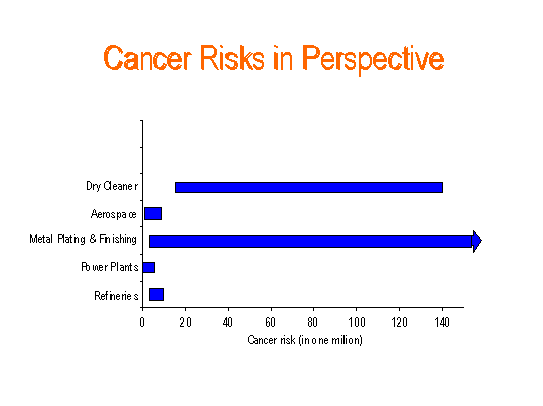 In addition to being a toxic air contaminant, perc is a major groundwater pollutant in Southern California due to improper disposal practices in the past by various industries. Because of perc's "toxic liability," some landlords will no longer lease their property to dry cleaners.
Many Cleaners Now Using Alternatives
About 110 Southland cleaners already are using one of the three prevalent non-perc technologies: professional wet cleaning, hydrocarbon solvent and silicon-based solvent cleaning.
Professional wet cleaning, which uses water and biodegradable soaps, is the most environmentally friendly alternative. First invented in Germany in 1991, wet cleaning relies on computer-controlled washers and dryers and specialized finishing equipment to clean a full range of garments, even the most delicate ones labeled "Dry Clean Only". Wet cleaning now is widely used in Europe, where one manufacturer alone has sold 800 machines.
Ten Southland cleaners use wet cleaning exclusively and are able to clean more than 99 percent of all garments received, which is comparable to dry cleaning. They also report electricity savings of up to 45 percent, or about $850 per year for the average cleaner. Typical wet cleaning equipment costs about $29,000, or about $3,000 less than a comparably sized dry cleaning machine.
In a study co-funded by AQMD, researchers at the Pollution Prevention Education and Research Center at Occidental College in Los Angeles have found that a dry cleaner can convert their business to wet cleaning over a weekend and that contrary to previous reports, cleaning garments through a professional wet cleaning process does not take more time or labor than dry cleaning them. Occidental College will release its full report next week including detailed case studies of several wet cleaners in the region that switched from perc.
Hydrocarbon cleaning uses synthetic hydrocarbon solvents such as DF2000 in a machine and process similar to dry cleaning. There currently are about 75 hydrocarbon cleaners in the region.
Unlike perc, synthetic hydrocarbons are not considered toxic. They do contain volatile organic compounds (VOCs), and a small amount does volatilize and escape into the air. VOCs combine with another pollutant, oxides of nitrogen, in the atmosphere to form ozone smog. Assuming all dry cleaners switched to hydrocarbons, AQMD staff estimates that by 2019 the transition could increase the region's average VOC emissions by a total of about 0.6 tons per day.
Green Earth™, a silicone-based solvent, does not contain any VOCs and preliminary tests indicate that it is non-toxic. Hydrocarbon and silicon-based solvent machines cost about $10,000 more than a perc machine.
A fourth technology uses carbon dioxide pressurized to a liquid state. It is completely non-toxic but the equipment cost -- about $90,000 -- is too expensive at this time for widespread use.
AQMD Committed to Assisting Cleaners
Since 1996, AQMD has committed substantial funding to research and demonstrate wet cleaning and assist dry cleaners in converting to the non-toxic alternative. AQMD already has provided $75,000 that assisted six dry cleaners in converting to wet cleaning. In September, AQMD's Board authorized an additional $325,000 to provide financial assistance to dry cleaners switching to wet cleaning and to demonstrate the technology.
On Nov. 1, AQMD staff will recommend that up to $2 million from an existing AQMD business assistance fund be used to help dry cleaners make the switch. Assistance would be in the form of a $10,000 grant to each cleaner switching to wet cleaning or carbon dioxide, and $5,000 for each cleaner switching to hydrocarbon or silicon-based cleaning, before Jan. 1, 2004.
Based on a worst-case scenario of all dry cleaners converting to hydrocarbon technology, the rule will cost the industry an estimated average of $4.3 million per year. However, as previously noted, those switching to wet cleaning could realize significant cost savings.
Part of Overall Strategy to Reduce Toxics
AQMD's perc proposal is part of an overall strategy to reduce air toxics that stems from the Board's adoption of Environmental Justice Initiatives in 1997. Those initiatives included the MATES II study, which led to Board adoption of AQMD's Air Toxics Control Plan in 2000.
Under the Air Toxics Control Plan, the Board last year adopted rules to reduce perc emissions from industrial degreasing and motion picture film cleaning and printing. AQMD staff currently is developing a rule to reduce toxic emissions from metal plating and finishing facilities.
AQMD is the air pollution control agency for Orange County
Written by: South Coast Air Quality Management District
---
RELATED LINKS:

Updated Daily!
* * * IN-HOUSE RESOURCES * * *