AVIVA Natural Skin Care, Cosmetics and Hair Products Including Natural Hair Color
BIO LOGIC AQUA RESEARCH 100% All Natural, Water Therapy Products. EyeMist, Skin Mist, Emergency Eye and Skin Spray. No Chemicals, No Preservatives, No Saline.
CLEAN SPIRITED All Natural, Organic, Eco Friendly, Skin Care, Hair Products, Spa Products, Candles and More
CLEOPATRA'S CHOICE Natural Skin Care and Beauty Products, Based on Minerals from The Dead Sea
EARTHSAKE Natural Skin Products for Adults and Babies, Eye Pillows, Yoga Tapes and Supplies
FLOWER ESSENCE SERVICES Skin Creme and Organic Herbal Flower Oils for Bath, Massage
FOUR STICKS We Make Natural Lotions and "Not Gooey" Glycerin Soaps - NO Harsh Chemicals, Parabens or Yuck
GARDEN GIRL SKIN CARE Highly Effective Natural Skin Care and Bath + Body Products. Free of Parabens, Sulfates, Petroleum, Phthalates and Synthetic Fragrance
HEALTH AND HARMONY Highest Quality, Natural Skin Care and Personal Care Products to Keep You Looking Beautifully Young
HEAVENLY HEAT SAUNAS Sauna Rooms Designed with Your Health in Mind
INSPIREDLIVING.COM Miessence Certified Organic Beauty-Hygiene Products (Skin, Hair, Body, Dental) & Abbey All Natural Skincare
INTERNATURAL InterNatural's Specialty. Thousands of Natural Bodycare and Health Spa Products.
JESS' BEE NATURAL An Eco-Conscious Business Specializing in High-Quality Skin Care
MOUNTAIN ROSE HERBS Natural, Vegan, and Organic Herbal Body Care Products. Since 1987.
NATURAL E GREEN Natural and Organic Bath and Body Products. Non-Toxic Body Care For Adults, Baby and Kids
NATURAL WAY ORGANICS Organic Castile Soap, Bar Soap, Baby, Household, Bath and Body, Lotion
NATURALLY GOOD.NET Natural and Organic Skin Care Using Certified Organic Ingredients. No Parabens.
NATURE'S GIFT Superb Essential Oils, Aromatherapy Healing Information, Accessories and More
NOIR NATURALS Organic Argan Oil, Unrefined Shea Butter, Goat's Milk, Coconut Milk Vegan, Soy and Dead Sea Products
ORGANIC BABY GIFT BOUTIQUE Organic Skincare for Mom & Baby, Organic Lotion, Sunscreen, Shampoo, Body Wash, Diaper Cream
ORGANIC BUG Yoga Mats & Props, Pangea Organics, Shady Day Sun Protection & Other Soothing Skin Solutions
ORGANIC COMFORT ZONE Experience the Organic Comfort Zone featuring NakedSpa Natural Body Care and Organic Soaps. Free Catalog.
POPPY'S NATURALLY CLEAN Kirk's Castile Bar Soap, Aloe Vera Liquid Hand Soap, Chemical Free, Biodegradable, Non Toxic, Naturally Antibacterial.
SOAP FOR GOODNESS SAKE Handmade Soap, Organic Skin Care, Miessence, Hair Care, Deodorant, Oral, Dead Sea Soap, Natural Cosmetics
SUSAN'S SOAPS & MORE All Natural, Handcrafted Soaps, Scrubs & More Personal Care. Wonderful Aromatherapy Scents. Many Vegan Products.
THE VEGETARIAN SITE Vegan Facial, Hand, Hair, Body, Dental, Deodorant, Shaving, Herbal Products
THE ZEN LILY Handmade, All-Natural Bath and Body Products, Stainless Steel Water Bottles and Yoga Apparel
WOOBAMBOO Bamboo Toothbrushes from WooBamboo are Made from Biodegradable, Sustainable, and Stylish Bamboo.


HEAVENLY HEAT SAUNA SAUNA ROOMS DESIGNED WITH YOUR HEALTH IN MIND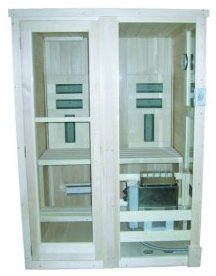 Shop by Keywords Above or by Categories Below.

Updated Daily!
* * * IN-HOUSE RESOURCES * * *