BAGINSPIRATION Esse 4 Pocket CarryAll Tote Grocery System, Reusable Sandwich and Lunch Bags


BEGREEN PACKAGING Biodegradable, Compostable and Recyclable Packaging for Restaurants and Consumer Packaged Goods. Made from Plant Fibers.


CERAMCOR Xtrema - 100% Green & Healthy Non-Scratch, Easy Clean Ceramic Cookware, Bakeware & Teaware


C60 BAMBOO CARBON COMPANY Fruit & Veggie Produce Saver Featuring Bamboo Charcoal. Keeps Produce Fresh and Ready to Eat Longer.


ECO-GECKO PRODUCTS Biodegradable, Compostable, Disposable Wooden Cutlery. 100% Natural Cutlery for Restaurants, Schools, Catering, Weddings, Picnics.


ECO PARTY TIME Organic Decorated Cookies for All Occasions and Holidays, Fair Trade Chocolate Gift Sets and Favors


GARLIC JUICE SPRAY Garlic Juice Spray or Pour - Cold Pressed and Fire Roasted


GIVE A GREEN BAG Bamboo Utensil, Stainless Steel Water Bottles, Reusable Wrap, Hemp Scrubber, Biodegradable Sponge


GOODEARTH BAGS Market Carryall, Reusable Shopping Bags, Chic, Washable, Sturdy. Minimum Order Required, Custom 2tone Logo Per Specifications.


GOURMET MUSHROOM PRODUCTS Grow Organic Mushrooms in Your Home: Indoor Gourmet Mushroom Growing Kits - Mushroom Logs


GREEN TEA LOVERS We Specialize in Maximizing Green Tea Taste & Health Benefits. White Tea, Rooibos, Organic Also Sold.


HAPPY FAMILY BRANDS Happy Squeeze Greek Yogurt Pouches, Delicious Fruits for a Nutritious Snack Excellent Source of Calcium and Vitamin D


LIVINGNUTZ Delicious Organic, Artisan Raw-Food Nuts. Germinated, Marinated & Dehydrated-Never Roasted. Flavors like Teriyaki Almonds & More.


MARKET LOHAS Healthy Natural Grocery Shopper Marketing, Lohas Brand Marketing Research Consulting, Foodie Focus Groups and Mambo Sprouts.


MIRIAMS EARTHEN COOKWARE Enjoy The Full Goodness of Healthy Food By Cooking it in All-Natural Clay Cookware No Additives, No Glazes. Made USA.


MONTEREY BAY SPICE COMPANY Providing Bulk Herbs, Bulk Spices, Bulk Herbal Teas. We Do Custom Tea Blending and Packaging.


NATURE'S GIFTS AND MORE Give Your Green Wedding Guests Foods, Favors, and Coffees that are Natural and Organic


NECTAR OF LIFE ORGANIC COFFEE Fresh Roasted Fair Trade Organic Coffees and Coffee Gifts. Free Shipping Available.


NOIR NATURALS Organic Raw Unfiltered Louisiana Honey. This treat contains a variety of natural vitamins and minerals.


SO GOOD ITS GREEN Vegan, Kosher, Gluten-Free, Baking, Condiments, Oils, Fruits and Vegetables, Spices, Herbs, Snacks, Milk Alternatives, Beverages


SOLAR COOKER AT CANTINAWEST Cook Delicious Food with the Power of the Sun


THE HEALERS JOURNAL Hydrilla Superfood Powder Gives You Powerful, Whole Food Nutrition to Help You Heal Your Body and Mind


THE VEGETARIAN SITE Vegan Natural and Organic Meat/Dairy Alternatives, Nutrition Bars, Snacks, Desserts, and More.


THE VEGG Vegan 100% Plant-Based Egg Yolk, Looks Smells and Tastes Like Real. You're Gonna Love It.


WILD MINT SHOP Non-Toxic Cookware, Bakeware, Cook's Tools & More to Keep your Food Chemical Free


WRAP-N-MAT Packing Lunches or Snacks. Reusable Multipurpose Earth Friendly Food Wraps/Pouches that Converts into a Placemat.

If We were to Eliminate Meat From Our Diet, We Could Cut Our Risk of Heart Disease Down to 15%. - Time Magazine
A new study by Loma Linda University has found that plant-based diets not only result in a smaller greenhouse gas footprint, but also increases longevity by up to 20%.
WHAT DOES ORGANIC MEAN?
The USDA says, "Organic is a labeling term that indicates that the food or other agricultural product has been produced through approved methods that integrate cultural, biological and mechanical practices that foster cycling of resources, promote ecological balance and conserve biodiversity. Synthetic fertilizers, sewage sludge, irradiation and genetic engineering may not be used."
"I personally chose to go vegan because I educated myself on factory farming and cruelty to animals, and I suddenly realized that what was on my plate were living things, with feelings. And I just couldn't disconnect myself from it any longer." Ellen DeGeneres
MAKE SMART FOOD CHOICES
Much of our pesticide exposure comes from the food we eat. Conventionally grown produce is treated with insecticides, herbicides, fungicides, and other pesticides. These pesticides can accumulate up the food chain into foods we eat like milk, butter and meat. They also negatively affect the honeybee and other pollinator populations.
Buy organic produce when possible. Thoroughly wash and peel conventionally grown produce before cooking or eating it to remove any pesticides that may be on its surface.
Trim fat and skin off conventionally fed meat and poultry to reduce your consumption of pesticides that accumulate in animal fat.
Be especially mindful of what you feed children. Pound for pound, they eat more food and drink more water than adults. Their bodies are still developing and are especially vulnerable to the effects of pesticide exposure.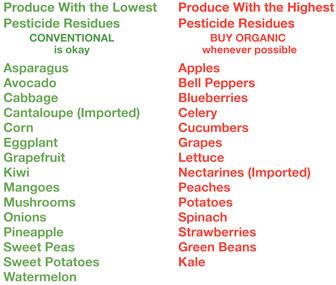 Plant-based diet can help save the planet.
Organically grown foods are found to be much higher in antioxidants.
"Organic food has a higher nutritional value than ordinary produce", - A study by Newcastle University
Organic food is often fresher. Organic food is usually fresher when eaten because it doesn't contain preservatives that make it last longer. Organic produce is often produced on smaller farms near where it is sold.
Organic farming is better for the environment. Chemical pesticides can make it hard for birds and small animals to reproduce and can even kill them. It is also better for the people who harvest our food.
48 FRUITS AND VEGETABLES WITH PESTICIDE
Environmental Working Group (EWG)
The Dirty Dozen (in order of contamination)
Apples - Celery - Sweet bell peppers - Peaches - Strawberries - Nectarines - Grapes - Spinach - Lettuce - Cucumbers - Blueberries - Potatoes
The Clean 15 (in order of least contamination)
Onions - Sweet Corn - Pineapples - Avocado - Cabbage - Sweet peas - Asparagus - Mangoes - Eggplant - Kiwi - Cantaloupe - Sweet potatoes - Grapefruit - Watermelon - Mushrooms
---



Shop by Keywords Above or by Categories Below.

Updated Daily!
* * * IN-HOUSE RESOURCES * * *