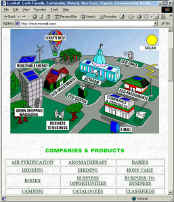 "WOW this is a Wonderful Site to learn from and keep in touch with what really matters with our Eco Future. Thank you for everything." - R Reinoso
Time Magazine calls EcoMall "a great place to browse, be entertained or just hang out."
"EcoMall. For those seeking to add a socially responsible flair to their holiday gift giving, the EcoMall may be your one-stop shopping center. Many aspects of the holidays can be overshadowed by excess consumption, wastefulness and an increased strains on the environment. The EcoMall provides us with some hope, where "a little innovation and commitment, this holiday season can become an opportunity to create new holiday traditions that help protect the environment not only for this holiday season, but for generations to come. Locate gifts of every type imaginable, from companies that care for the environment." - University at Buffalo.
"Eco Mall - From solar power to eco-friendly restaurants, Eco Mall provides links to hundreds of sites for home and business. Also includes classifieds, job listings, consultants, and education." - Martha Stewart.com
"The EcoMall is a customer friendly, eco-conscience avenue to shop. It's terrific! " - Debbie Puleo
"I had a chance take a look at your website and I have to say that I'm thrilled to have found such a unique and valuable resource. It really is nice to be able to find so many eco-friendly products all in one place." - Patrick Cullen
"EcoMall.com Awarded on 5/13/2013 with Top 25%
http://www.ecomall.com The popular environmental portal EcoMall.com (http://www.ecomall.com). EcoMall.com is one of the Internet's oldest and largest environmental directories of earth-friendly companies and resources." - Ecositeawards
ECOMALL - "Earth's Largest Environmental Shopping Center". A site where you can search for Green products and links to sites with information about the environment. There is a good search facility by keywords, or by categories. Lots of links of interest to artists.... www.ecomall.com" - GreenArt
"EcoMall is a great resource for green shopping Loved it!" - Morningstarz
"I checked out EcoMall - what a tremendous resource! Your web awards and reviews are equally impressive. Great to see you have expanded your exposure through facebook and twitter too. As you know people are increasingly demanding environmentally-responsible products but it can be hard to find what you are looking for. More people need to know about sites like yours." - Danny
The average loading time of ecomall.com is 419 milliseconds - this is faster than 97% of all other websites. At the DMOZ open directory
"EcoMall does have perhaps one of the most abundant and diverse set of green interests represented, allowing readers to join a number of lists for political activism, a daily green news bulletin, and other tips and trends. In addition, of course, the store is itself a list of links to the aforementioned greentailing enterprises around the web. Odds are, if you're looking for something specific, you can find it here." - Scott Cooney
"The EcoMall is our highest referrer ...they have been our best spent advertising dollars" - Ame
"While the EcoMall website isn't as flashy or stylish as some of the other online eco-marketplaces, it's jam-packed with practical information about all kinds of eco-products and companies. More a directory of green goods and websites than an online marketplace, EcoMall has pages upon pages of green, organic, Fair Trade and eco-friendly vendors and merchants who sell everything from magazines to furniture, aromotherapy products to alternative energy, appliances to clothing. So while EcoMall may not exactly fall into the "One-Stop Shopping" category, it can point you in the direction of almost anything you need that's green". - Green Buy Guide
"EcoMall is a wonderful community dedicated to Earth and Human Friendly products. They thoroughly research a company before allowing them to be a part of their Mall." - Go Clean
Customer reviews of Ecomall - 5/5 stars "Love it!" - Megan Burns
"I found this Web site you might like to check out the ecomall has links to just about anything related to things like organics, recycling and products that can help save the plant and your budget." http://www.ecomall.com/ - earthday.org - budgetsmartgirl.com
"Here's a site I use when looking for eco-friendly products: EcoMall - EcoMall will probably keep you busy for days!" - Kentauros - DemocraticUnderground.com
"I want to personally thank you for listing our company on your site for as long as you have. You have been a great source of new eyes on our pages, and that means a lot to us." - Jon, Conservastore
"Thanks! Also, through EcoMall, I have gotten lots of traffic from teachers for solar learning toys, many requests, better yet, purchases!!!!" - SolarFlairLighting
"EcoMall Shopping with the planet in mind can make a big difference in many ways. Collectively, we can reward environmentally responsible practices, discourage waste, help close the recycling loop and reduce the amount of toxic materials entering our ecosystems. Shop like your life depended on it" - Super Consciousness Magazine
We are in our fifth year of advertising with EcoMall. Marianne is wonderful to work with and we are very happy with the traffic we get from their site. It's been a good investment and we feel it is a very trusted site by customers looking for "green". Mindy
"We absolutely love what you are doing!!! Its great website and great categories" - ESKIMO LTD
"EcoMall was a lovely experience" - A L
After reviewing Google Analytics for my website today for a one year period, Eco Mall was by far my highest referral achiever for Dash Hemp. Averaged 13 visits/day over the year. Best regards, RD - Richard Dash - Dash Hemp Santa Cruz - (note: 13 x 365 = 4,745 people a year).
"EcoMall is a resource for all manners of earth-conscious choices" - Playful Planet
"I want to thank you for helping environmentally conscious consumers gain access to green producs." - Brooks Lape
"I just wanted to drop you a note regarding my new listing with ecomall... I have had great response and numerous sales that have come from your site... definitely a terrific investment." - Hope Milner
"You have an interesting concept, it's a nice and friendly site." - Mark
"Hi EcoMall team! We love your work! Please let me know how we can advertise with you?" - Christoph
"Thnx u for such fine service! You folks deserve recognition for a job well done. I would not hesitate to recommend you" - Anthony
"Talk about a one-stop shop! With the motto: "A Place to Help Save the Earth," EcoMall.com is a clearinghouse for everything green. The Internet has empowered consumers to find environmentally-friendly products and support companies that reflect personal values and causes. This site offers over 60 shopping categories featuring hundreds of environmentally-responsible companies representing thousands of earth-friendly products." - bozone.com
"Visit the EcoMall. According to its website, EcoMall provides educational articles, a comprehensive list of environmental companies, products and services. The site offers listings of hundreds of sites on the Internet with green products. Find everything you could possibly need from A-Z. " - Doreen Christensen - Sun Sentinel.com - blog
"I think you have an incredible site!" - Kathleen P.
"Check out the ecomall it has links to just about anything related to things like organics, recycling and products that can help save the plant and your budget". - Budgetsmartgirl.com
"I have heard great things about your website from fellow Green America companies who have advertised with you for years" - Mary
Subject: Re: [cabn] EcoMall - Hi CABN'ers - We are in our fifth year of advertising with EcoMall. Marianne is wonderful to work with and we are very happy with the traffic we get from their site. It's been a good investment and we feel it is a very trusted site by customers looking for "green". - Mindy J. Saintsing Owner/Partner Bamboosa®
"The site is really amazing. I liked everything about it" - Chadwick
"EcoMall: Lots of great links for anything your heart desires" - 547greenmarketing
"I found your site to be a great Eco-friendly resource!" - Ethan B. Bestul
"WHERE CAN I BUY EARTH FRIENDLY CLOTHING?
You can buy earth friendly clothing, and a lot of it is available online. One great site is ecomall.com, and they have lots of different companies and good explanations of what kind of earth friendly clothing they sell" - video jug
"love your insight and info. Thank you for putting it in one place. Living in KS it is very hard to find in local store. Thank you again" - Laura
"My name is Denise. I'm starting my student teaching in middle school science next week, and I'm putting together some web materials on recycling and conservation for a unit on ecology. I ran across the Ecomall kids resource page at http://www.ecomall.com/biz/kidslinks.htm in my Google results, and it's been great for me. I wanted to send out a quick thank you!" - Denise K. Ross
"You guys are definitely one of the largest green company directories available.." - Cindy Sha
"I love ecomall.com - it's awesome" - Robbert L
"EcoMall.com its a amazing resource" - answers.yahoo.com
"Share and Voice: Virtual Eco Mall
So since taking this class I have started trying to incorporate more "green" products into my life. Being that it is Christmas why not spread the good idea around by buying eco-friendly gifts for my friends and family. While looking around online I found this cool website http://www.ecomall.com/. It's like a big databases of different types of stores and places to get certain products you're looking for without harming the environment. They have links to everything from solar powered products to aromatherapy to yoga. Hope you guys find some stuff to!" - Pam blogspot.com - Pamvironmentally Friendly
"Great Green Gifts - For a huge list of eco products by category check out www.ecomall.com" - yourearth.blogspot.com
"I listed with you last week and we are seeing a great response! I want to thank you for all your efforts with Eco Mall, it is becoming one of Earthlover's best referral sources! Thanks." - Tammy
"Ecomall offers ideas for "green" weddings, and the whole idea behind green weddings is to limit conspicious consumption, so that is a good place to look for ideas to keep weddings less crazy and less expensive as well. - Riverton Church Blogspot
I love the Pioneer Thinking; Ecomall - wildflower - democraticunderground.com
Green & EcoFriendly Directories and Portals
"I'm going to share a secret with many of you. Linking is not only about helping with Google rankings, but can also deliver quality direct traffic and conversions to your business from the site that is linking to you. One example of a niche portal which sends very targeted traffic to the sites listed within it is EcoMall, a directory for ecofriendly online shopping.
Let's forget that EcoMall is a quality authority site which has been active for over a decade and a link from EcoMall should highly assist your site's Google rankings. The links themselves drive traffic and I have witnessed thousands of dollars in sales directly coming from EcoMall as a referral." - Going Green: The Power of Ecofriendly Link Building - Loren Baker
"Hi, I've recently found your website and I'm really enjoying how easy it is to use" - Megan
"I really appreciate you taking the time to create and maintain your wonderful site. Keep up the great work! Thank you" - Joanne Peters
"I must say I was overwhelmed when I saw your wonderful website. I am glad you exist" - JC
"I love your site!" - Liane Culp
"List thousands of eco-conscious companies and products. The website is crazy huge" - Gaiaonline
"I absolutely love the concept of your ecomall!" - Allison Harris
"The EcoMall is loaded with fantastic websites dedicated to eco-friendly products. Everything from Solar Energy to Eco-Restaurants to Garden Products and so much more can be found on this website" - campville.blogspot.com
"Love the info and the site is great. Thanks for putting this out there, we need many more green conscious people out spreading the love!" - Damon Reichardt from - Ecomall, Earth's Friendly Shopping Center - by Derek Cyr, - Shopping can be very earth friendly, depending where you go. Ecomall is the place to start!
"EcoMall.com, an amazing website compendium of environmental knowledge, advice, and activism". – Gloria Feldt
"You are one of the sites referring the most traffic to our web site so we wanted to take a minute to say thanks" - Michelle, Recycline
"EcoMall.com - Here is a very informative site that lists eco- friendly products, eco-restaurants, eco investments, activism, etc." giovanna - blogger
"There are some wonderful, earth friendly items that I would like to buy. I have bookmarked the link." - MorningMedusa blogger
"Great site, I'll really enjoy that" - soulshine1957 blogger
"I am already enjoying the benefits of Eco Mall" - Tammy W -
"Wow, just revisited EcoMall, what a wealth of information!" – Rebecca - The Urban Sherp
"I checked out ecomall.com. Wow, what a wealth of information. I know I will be spending a lot of time exploring it as well as passing it on to friends" - Tom
"I was speaking with a friend of mine (Garden Skincare), and she spoke pretty highly of how you've helped her website and search rankings. I was interested in advertising, Thanks much," - Robyn
"THIS IS A GREAT SITE"- Sheldon Funk
"Can't wait to spread the word of all the WONDERFUL things your site sells!!" - Laura
"The EcoMall is an amazing source of environmentally conscious product information and activism. They've been around for 14 years (so they are not jumping on the environmental 'bandwagon'). They were so supportive of me when I started B-girl (my aromatherapy line) - in fact, they are one of the main *reasons* it even came into being. If you care about the environment and want to research companies that do as well, check out EcoMall.com!" - Cathryn Swan
"Ecomall is a great app" - Joe
"What you do is outstanding! Just outstanding. Great information and resources! Thank you!!" - Green Bloom
"Hi, I visited your site today and found that the content is amazing. Obviously you have a deep passion for green living and taking care of our environment" - Sam Clark
"I have been recommending ECOMALL for years .. will continue to do so for other green and conscious clients! Thank you again." - Best Regards, Karen Herther
"There's a great website called Ecomall.com which has lots of different suppliers of earth-friendly clothin" - Videojug
"We are new fans and support what you are doing. We need to have resources such as yours to move things forward.
Well done, keep up the great work!
Greetings from Amsterdam" - Jim - Green Graffiti
"EcoMall Tons of information on helping to save the earth". - Theology Library
"Love your all's sight I have looked through it hundreds of times. I have used your site a lot and it has been a great resource. I can remember when you had about half of what you have listed now. You guys are doing a great job, because I have watched your site double in the last three years." - Thanks, Stacy
"I think it's great that you provide all of these resources in one place and I'm sure your visitors and students appreciate having all of these options at their fingertips" - Sarah Stoltzfus
"EcoMall (http://www.ecomall.com) has an impressive list of eco-conscious and socially conscious stores from around the world." - blogspot.com
"EcoMall: It's like your average shopping trip, but it's all environmentally responsible, too" - MTV Switch - Blog
"Another old-standby is EcoMall (www.ecomall.com), which has an extensive "activism" section listing various eco groups and their campaigns. The site allows users to search by keyword or to navigate through well-conceived listings by issue topic." - Health News Digest
"EcoMall is an amazing website that is dedicated to the health of our planet. For any type of information including medical, solar or green products his site is a wealth of information" - Stacey Stich
" Looking for Eco Friendly Products? It's time to discover EcoMall! For people who are looking for green eco friendly ways to meet their daily needs." - localbusinessguide "We like your mission for helping protect and preserve our greatest resource, Earth! Thank you!" - Elizabeth
"Your site is really neat!" - Staley - EcoBrain Books
"Wow! What a wonderful website you have. I would be very happy to advertise on your website" - Marion
"I remember finding Ecomall.com about 5 years ago, if not more, and it being one of the first eco-conscious websites of importance to me!" - Kira
"EcoMall: the "real" mall gives me shivers, but there seem to be some good things here." - Molly Around - Blog
I thought I'd send you a quick email to let you know that I found your page here very helpful!: http://www.ecomall.com/activism/ecolinks.htm - keep up the good work! - Ellie
"EcoMall, lists thousands of socially responsible manufacturers and distributors of just about every type of green product imaginable". – Earth Talk - HealthNewsDigest.com (What are the Best Sources Out There for Environmentally Friendly Consumer Products?)
"Wow... appreciate the resources you provide for Eco-living products. Keep up the good work!" - Eccentrik Designs
"wow, your website is really one of the first on the topic of renewable energy - I am impressed!" - Daniel
"Hi I just came across your website and thought it was GREAT! You have a great directory of stores that manufacture using Organic materials" - Usman
"EcoMall is a great resource. I would love to list our company on EcoMall" - Eric S
"Another way to find gifts that are good for people and the environment is at www.ecomall.com They have all kinds of things, but clink on the babies link to find dozens of links to online stores" - richyangbaby Blog
"Green Resource Online, EcoMall: Lots of great links for anything your heart desires." - Michelle Bennett - CleanTechnica
"Ecomall.com, an eco-shopper's paradise, has links to all manner of green products - from pest control to organic bed linens". - Chicago Tribune
"Love the idea" - KL
"I'm glad I came across your site and am amazed at the comprehensive industry relevant information catered by your site. The site design and navigation is well built and quite interactive too."- Essentialed.org
"I recently came across your site and am a fan of it. It's a great resource for like-minded people who care about the enviroment." - Niki Singh
MOTHERING MAG BLOG:
"I'm curious if anyone here has advertised on Ecomall? What were your results like in terms of payback?" - Boba 3G

"We do and they are our highest referrer ...they have been our best spent advertising dollars I noticed 5 years ago that the people advertising with them STUCK with them. That says a lot to me!" - LaLa

"I think they're well worth it - I didn't really have the money, but I paid for a whole year and now am glad I did." - Kalisis
"I came across your site recently and thought it was informative. I particularly liked your layout and how easy it was to navigate." - Brian Rice

"Julie's Favorite Things: Discover EcoMall. I hate to shop. But like everyone else, I love a great bargain and find great joy in snagging that perfect gift for someone! Call it a love-hate relationship. This is why I love EcoMall. The oldest and largest environmental shopping center and Expo on the Internet, EcoMall currently has over 4,500 products to find something for everyone on your holiday list! www.ecomall.com" - Healthy Bitch Daily

"EcoMall is a great website that lists chemical-free alternatives" - Eartha Steward

"Hi I just came across your website and thought it was GREAT!" - Usman

"Just got a bunch of great resources from your page...THANKS!" - Synergy-Eco

"At www.ecomall.com, I happily stumbled across this site, which offers hundreds of ideas, links and articles to keep you green." - Trine Gallegos, Contra Costa Times correspondent

"Check out the EcoMall, where you can choose from hundreds of earth-friendly products and manufacturers. Select a category and view articles, product reviews, and links to great places to find and buy products that are safer for the earth." - freedomforanimals

"Ecomall, Earth's Friendly Shopping Center
Shopping can be very earth friendly, depending where you go. Ecomall is the place to start. It seems ever so evident that people are trying to be earth conscious. More and more are looking to better the planet. Some might find it hard, some might even find it almost impossible to do better. Yes, we all know that taking the bus is better than taking the car and that taking a bike is better than taking the bus. For some that little change is enough, but for many more the question is: How can I be more 'eco' in my shopping.

It could be books, soaps, magazines, trips, foods, clothing, etc. If you are looking for pretty much anything but want it to be earth friendly, ecomall is the best place to look. For 20 years now ecomall.com has helped out by providing links to any merchandise that would regularly be in a shopping center but with a green twist. With over 60 shopping categories, there is no doubt that what you are looking for will be there. Anything from non-toxic cleaners and paints to organic food, recycled tree-free paper and even solar and sustainable energy products.

Also included on the website is the Green living magazine. Filled with articles for inspiration and to educate on ways to live harmoniously with each other and the earth. The 'ask an expert' section is a must for all questions you have concerning vegetarian eating, housing, gardening and even volunteering green.

Eco-activisim is also a very important part of the site since it keeps you informed of current issues affecting the environment. This is a place where you can make your voice be heard.

Ecomall is a huge website and I am sure you will have fun searching around it for all your living needs. As I have learned, shopping can and must be friendly to the earth."

- BY Derek Cyr - Quazen.com Homepage under Shopping

Top Eco-Internet Sites for Shopping - www.ecomall.com.
"A Place to Help Save the Earth" just about sums it up. A great search engine for green products makes shopping a breeze and worry free! Topics range from bedding to flowers to toys and everywhere in between. A gift category is even included to make it even easier for your Holiday Shopping. - Citizens campaign.org

Thanks for doing all that you do TO help save the earth! ~peace~ Ang

"Eco Mall (www.ecomall.com) is an online mall that features different products and companies that aim to save the earth. They have stuff for men, women and babies!" - Rutgers University

I would like to get a price schedule to advertise with you I love your site! thanks- Terri Q

I greatly admire the work that EcoMall does for sustainability, the economy and the planet. - Stephen Filler

Ecomall - One stop natural goods portal
I discovered this site when I was pregnant with my son. I found myself desperately searching for simple, natural items in lieu of thetoxic, plastic media ridden merchandise that is so abundant out there. This site offers more links to natural baby websites than I have even found the time to visit. They are listed by content as well. The site is not limited to baby wares and includes all types of"green" products. This website should be in the favorites menu for any health conscious person! - Judysbook.com

Hey there! Thanks for all the insightful organic info. Your hard work to put such a thorough website together is extremely beneficial to the community! Thanks again for your great website. - Tiffany

Hello there :) I just finished reading your site ecomall.com. It is a useful resource for me and any other vegetarians/vegans. Thank you for making the site. Sincerely, Rudy Hadisentosa

This is an unbelievably impressive website with so many resources... Keep up the good work! - Bruce Ferber

Hello, I think your Ecomall is great! Thank you, - Chris Jeffus

Hello, What a great site! It is so refreshing to see a site like this! Great Job! God Bless, Teresa Schumacher

Thank you so much. I am very encouraged by your responsibility. I will continue to use your wonderful website and recommend it to others. Thanks again, - Julianna Baker

Hi Guys, I just wanted to say I love your web site - it provides me with so much information. All the best. Diana

I love your site and have visited it often over the years. Thanks - David Zielski

Hello, I must say your site content is very good. Best regards, Josue

To whom it may concern, I have visited your site many times as a consumer and have been pleased with the selection and quality of the sites listed. I am interested in advertising my site on your site. - Tanya Shersnow

Can you please send me some information on how to become a business listed on Ecomall.com. You are doing a wonderful thing and we would love to be a part of it. - Kimberly Baca, Director of Operations

Hi, I have just been visiting your EcoMall website, and I am very impressed. I think it is very important to have green shopping alternatives to mainstream consumerism. - Elyas Bakhtiari

Wow! You're site is such a comprehensive resource - Dave Zirnhelt

Incredible resources - Jennifer Lance

I just visited your site and was impressed by the amount of information you provide about your Green Living Magazine as well with the attractive layout of your site. I congratulate you for a job well done. - Gayle Cajee

Hi EcoMall, I love you guys, what a great service you have! Thanks! - Bean

Wonderful job on the vast resources of "green" products and services!Keep up the good work! - Donna Wellman

Your site is excellent, I wish you the best, - Randy

Check out Ecomall's list of kick-ass Organic & Sustainable kids toy providers for a ton of cool gift ideas! - pirate papa.blogspot.com

We love your site! Thank You, - Sean & Kim Smith

What a great resource your web site is! I'll pass it on to my clients. - Dena Stevens

I came across your website www.ecomall.com and it was an excellent experience to be on your website, which I felt was very comprehensive and knowledgeable with all the details a user can relatively find very easily. - Brad Callen

EcoMall - Here you can find just about anything under the sun that is eco-friendly. From hardware to jewlery to herbs to children's clothing and toys, it'll be in the EcoMall. The site is big, but easy to navigate. - Suite101

"Thank you so much for maintaining such a great resource" - E Wang

"The online repository of all things green, EcoMall, offers an impressive listing of sources for a wide range of cool, green-friendly garments on its clothing page." - organicconsumers

Every so often someone calls or e-mails me looking for various resources for Helan Vuca - Miessence I am so pleased to have advertised on your great EcoMall

In its 20th year, online portal ecomall.com has links to more than 200 environmentally conscious stores. Ecomall.com also posts hundreds of links to grassroots groups, non-profits and government agencies. "It's the Whole Earth catalog online," says ecomall.com's founder Tom Kay, a New Yorker and an activist since the '70s. Ecomall.com's "Green Living" magazine features articles (and links to articles) on a variety of environmental topics, from ways to reduce trash to maintaining a vegetarian diet on a trip to Disneyland." - The TODAY Show (MSNBC) - Teri Goldberg

"Ecomall.com is a good place to look for green clothing companies" - women-fashion-dresses.net

"Shop online for everything Eco-friendly at the EcoMall" - People who are Green

I'd like to say thank you for your website, Ecomall.com. It's a great resource for parents of preschoolers interested in purchasing eco-friendly children's products. I've been able to find some great earth-loving companies through your site! - Stacey Lloyd - PreschoolRock

I would like to thank you for this excellent site! It is so helpful.... I can't tell you how easy you have made my online shopping, browsing, and education. Thanks for the time and effort you have spent making our lives easier (and safer!).
Carrie Spanton
Kentucky

Hello!
I first want to say thank you for creating such a wonderful resource on the web! Its especially important foreco-novices like myself.
Joe Collins
Chicopee, MA

I am so excited to find your website - what a resource! I will recommend it to all my friends. Keep up the good work!
Jessica Maguire

I have been on the internet for days gathering information for earth day events and found more resources on your single site thanover 100 others put together.
Thank you for this amazing resource.
Maya
Great Forest Recycling

EcoMall: A place to help save the earth. One of the best eco-friendly consumer sites on the Internet. Large set of links to "green" Internet stores, as well as great information for consumers trying to make the best decisions for the environment. - Lewis & Clark College

Salutations! My name is Tara and this is my first trip to your web site. I absolutely love it! Three cheers for you guys.

You've done a wonderful job on your site! Dorothy Brinz (Vegan) Fox Island Tea

I love your site! What a great resource and reference for environmental information.Thanks! Dan Weisenbach

I have checked out ecomall.com and I love reading their articles- there are so many good ones and I wish I had time to read more. This is a site I can come back to over and over... Healthy Heidi :o)

I applaud what you are doing. - Chris Abbott I thoroughly enjoy and use your site! - Tisha Paster

I recently visited your www.ecomall.com website. I really love your the useful links and information you have on your site. What an amazing stop for green info! - Peggy Shannon

EcoMall: A Place to Help Save the Earth
EcoMall: A huge and much acclaimed mix of activism and green consumerism. In the mall sections you can quickly and easily locate your nearest purveyor of organic food, learn about green investments or source a mail order solar panel. Invaluable too for its links to dozens of activist environmental groups. Also a daily digest of environmental news and regular action alerts.
Indiana University of Pennsylvania.

I like the diversity and apparent complexity of your site. - Jennifer Hendrix

Greetings, I just wanted to thank you for the wonderful resource you provide. I value your site alot. [:
Thank you so much,
Renee

EcoMall - Site with vast amounts of useful environmental information - Cetambio, Lda. Todos os direitos reservados.

I really liked it very much , what a tremendous ammount ofinformation it is unbelievable . Best Regards and continue with that excellent work - Dieter Beick

EcoMall's directory of environmentally friendly companies and products is easy to browse. - Merck Family Fund

I used your guide to vegetarian restaurants a fewweeks ago when I was in Alaska. Thanks for posting it- it was very helpful.
E.Krell

ECOMALL Cares about the environment and wishes to let people know that there are eco-friendly products out there that you could use. - Bloomington Public Schools

Green Shopping Magazine - a comprehensive mix of articles on green shopping topics that concern everyone who wants to live a healther, more environmentally conscious lifestyle. - The Gathering Web

ECO ACTIVISM - A site giving access to protest organisations, places, dates ect. If you care, and want to play an active role in trying to make the world a better place, active protest is strength in numbers!! - Activism Online

I really enjoy the ecoquotes.....
Richard M. Rollins- Endangered Spaces Project

Ecomall - THE BIGGEST source of links for any remotely environmetally-related - Northwestern University

Eco-Mall Ecologically and environmentally friendly products, services, and information. Covers restaurants, businesses, investments, activism, communications, and renewable energy. Many products and services are advertised or listed, organized by category or product. EcoMall is a comprehensive resource for those who want to make their lives more environmentally responsible. A wide array of products and services is listed along with ordering information. If a topic is not covered here, the site's substantial link directory likely will be able to connect to a site that provides coverage. (review by: Four Star Superior from Newsweek - Britannica).
THANK YOU ALL
SO MUCH!
ECOMALL



Shop by Keywords Above or by Categories Below.

Updated Daily!
* * * IN-HOUSE RESOURCES * * *