Tips, Ideas and Nutrition Information for Healthful and Sustainable Living





Questions and Answers About Vegetarianism


HAVE A FAVORITE VEGETARIAN RESTAURANT?

If you know of a great vegetarian restaurant we have not included
please e-mail us the information (Include as much information as possible: Name, Address, Phone, Menu and Type of Food.- THANK YOU!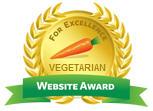 We at VegOnline.org are pleased to present you with the Vegetarian Website Award for excellence in vegetarian information! We understand the value of free, accessible information regarding vegetarian and veganism: great recipes, insightful articles, and tips to make people's diets that much healthier. Eco Mall helps further the vegetarian cause, and we think you should be honored as such.
Thank you for everything Eco Mall does to increase food awareness – your service is highly valued.
"The most political act we do on a daily basis is to eat." - Jules Pretty
Plant-based diet can help save the planet.
"The human appetite for animal flesh is a driving force behind virtually every major category of environmental damage now threatening the human future— deforestation, erosion, fresh water scarcity, air and water pollution, climate change, biodiversity loss, social injustice, the destabilization of communities, and the spread of disease." - Editors, World Watch
"Nothing will benefit health and increase chances for survival of life on Earth as the evolution to a vegetarian diet." - Albert Einstein
"The question is not, can they reason?, Nor, can they talk?, But can they suffer?" - Jeremy Bentham
"It may take a while, but there will probably come a time when we look back and say, 'Good Lord, do you believe that in the 20th century and early part of the 21st, people were still eating animals?" - Mary Tyler Moore
Amount of water needed to produce 1 pound of wheat: 25 gallons
Amount of water needed to produce 1 pound of beef: 2,500 gallons
A 16-year study of 6000 vegetarians and 5000 non-vegetarians in the UK found that the vegetarians generally had lower LDL cholesterol levels and lower death rates for each of the mortality endpoints studied.
Here are the list of ten things vegans don't eat.
1. Meat. – obvious, yes.
2. Fish and shellfish. – some don't eat Omega-3 Fish Oil supplements if they are from real fish.
3. Dairy products. – everything from milk and yogurt to cheese and butter.
4. Eggs. – that means mayonnaise and anything else made with eggs like most brownies and cakes, too!
5. Honey. – Bees are animals. Bees make honey. Vegans don't eat it.
6. White sugar. – Some white sugar is processed with bone char, according to PETA. (I had no idea!!)
7. Most beer. – Guinness Beer is filtered using tiny amounts of gelatin derived from fish bladders. And it's not alone. While some beers are vegan, others are filtered using egg whites or sea shells, according to barnivore, a vegan beer and wine guide.
8. Some breads. – while many simple breads are a-OK, containing just four ingredients (flour, yeast, water, and salt) many breads and baked goods are made with whey (a dairy product) or with butter, eggs, or sugar.
9. Marshmallows. – these and other foods, like gummy candies and Frosted Mini Wheats cereal, are made with gelatin — a protein made from boiling skin, bones, and other animal parts. Surprisingly, though, a lot of junk food qualifies as vegan, even if it is unhealthy.
10. Salad dressing. Salads are great for vegans, but not necessarily the dressing. Scan the ingredient list, and you'll often find lecithin, which helps keep oil and vinegar from separating, and can be derived from animal tissues or egg yolk (both no-no's for vegans) or from soy (OK).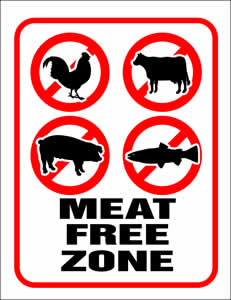 If you know of any great restaurants we're missing, please e-mail us for a free listing.
"I have always eaten animal flesh with a somewhat guilty conscience. So I am living without fats, without meat, without fish, but am feeling quite well this way. It always seems to me that man was not born to be a carnivore." -Albert Einstein
Organic foods last longer, taste better, are more wholesome, and are better for the environment.
The 12 Most Toxic Fruits and Vegetables
Known as the Dirty Dozen, conventionally grown peaches, apples, sweet bell peppers, celery, nectarines, strawberries, cherries, pears, imported grapes, spinach, lettuce and potatoes contain the highest levels of pesticides, according to the Environmental Work Group (EWG), a nonprofit research organization in Washington, D.C.
Up to 20 different pesticides are used in the traditional production of the Dirty Dozen and contrary to popular belief, simply washing or peeling your fruits and vegetables doesnt guarantee elimination. The pesticides used are often absorbed into the plants which allows them to bind to the fruits and vegetables, making it impossible to eliminate their presence.
The chemicals within these pesticides are reported to disrupt your immune system, nervous system, reproductive system and hormonal system.
Consumers who switch to organic versions of these foods could cut their pesticide exposure by almost 90 percent, according to EWG. It analyzed nearly 43,000 tests conducted by the Department of Agriculture and the Food and Drug Administration between 2000 and 2004.

Tips, Ideas and Nutrition Information for Healthful and Sustainable Living





Questions and Answers About Vegetarianism



---
Eating Organic Decreases Pesticide Levels in Kids

A recent study by Environmental Health Perspectives (March, 2003) found that children who ate primarily organic produce and juice had one-sixth the level of pesticide byproducts in their urine compared with children who ate non-organic food. The study compared children who ate produce and juice that was at least 75% organic with kids eating at least 75% non-organic.

Source: National Library of Medicine
---
The ABC News poll said that 55 percent of Americans surveyed said they would avoid foods carrying a biotech label. However, that survey response rose to 62 percent among women, who do most of the food shopping for U.S. families.
---
The sale of organic foods and beverages climbed to $11 billion in 2002, according to a new report by the U.S. Market for Organic Foods and Beverages. This means the annual sales of organic foods grew 1000 percent between 1990 and 2002.
Globally the Organic Food market in 2001 was estimated at $26 billion and is expected to reach $80 billions by 2008.
Support organic farming! Buy products made without pesticides, herbicides, artificial preservatives, or genetic engineering.
---
PESTICIDES IN CHILDREN
A study from the University of Washington reports that school children eating conventionally grown fruits and vegetables are more likely to exceed EPA safety thresholds for organophosphate pesticides than children eating organic produce. Organophosphate metabolites inchildren eating conventionally grown foods were nine times higher than in children eating organic foods. Professor Richard Fenske,research scientist Cynthia Curl and graduate student Kai Elgethun note that consumption of organic produce represents a relatively simplemeans for parents to reduce their children's pesticide exposure. (PCC Sound Consumer, February, 2003.)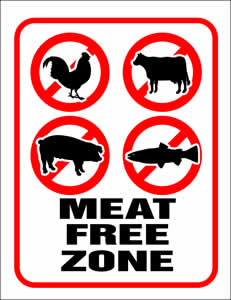 If you know of any great restaurants we're missing, please e-mail us for a free listing.

---

Organic food makes sense for healthy living and a cleaner and safer environment!

---

In a review of more than 100 research studies from around the world, the Physicians' Committee for Responsible Medicine found evidence that the vegetarians studied had 57 percent less heart disease, 40 percent less cancer, and 50 percent less high blood pressure than meat eaters.

---

"Genetically modified food is viewed as unsafe by most [Americans], and the public wants warning labels on food, a new ABCNEWS.com poll finds. 52% believe such foods are unsafe, and an additional 13% are unsure about them. 93% say the federal government should require labels on food saying whether it's been genetically modified . 57% also say they'd be lesslikely to buy foods labeled as genetically modified. The image problem of genetically modified food is underscored by contrast to organic foods.While only five percent of Americans say they'd be more likely to buy a food labeled as genetically modified, 52 percent say they'd be more likely to buy food that's labeled as having been raised organically."

---

The government agrees, it makes sense to eat organic foods to avoid certain chemicals. The Office of Children's Health Protection at the Environmental Protection Agency declares that "children are at greater risk of pesticide exposure than most adults," and goes on to warn that "pesticides may cause a range of harmful health effects," including cancer and injury to the nervous system, lungs and immune system.

---

"Organic farming became one of the fastest growing segments of U.S. agriculture during the 1990's, and producers, exporters, and retailers are still struggling to meet consumer demand for a wide range of organic products," the USDA said in the April issue of its "Agricultural Outlook" magazine.

---

Vegan foods with Highest Toxic Pesticide Residues

1. Fresh Peaches
2. Winter Squash
3. Apples
4. Pears
5. Fresh Spinach
6. Green Beans
7. Grapes
8. Celery
9. Lettuce
10. Soybeans
11. Potatoes
12. Tomatoes
13. Carrots
14. Oranges

Note: Insufficient data for berries - Consumers Union

---

New Study Finds Organic Is Healthier

We've all suspected it. Now, a growing body of scientificevidence is indicating that organic food is healthier thanconventional produce. Researchers from the University ofCopenhagen recently reported that organically grown producehas higher levels of nutrients when compared withconventional produce.

Specifically, the organic crops had a higher concentration of vitamins and far more secondary metabolites, which arenaturally occurring compounds that help immunize plants fromexternal attack. Some of these metabolites are thought tolower the risk of cancer and heart disease in humans.




---

Got Milk?  
A peer-reviewed medical study, in the International Journal of Health Services, suggests that the genetically engineered bovine growth hormone, rBGH, commonly administered to dairy cows to boost milk production, may promote cancer of the breast and colon. This product has been in widespread use on dairy farms in the U.S., and consumers have been drinking milk from these cows - largely unknowingly - for several years. In addition to the cancer risk, injecting rBGH reduces a cows life expectancy and increases her risk of disease, leading to increased use of anti-biotic injections, thus leaving residues of these drugs in the milk. The milk produced by the sick cows is less healthful because mastisis results in increased secretion of white blood cells, or 'pus', into the milk.

---

"According to a recent survey, 60 percent of Americans are interested in buying organic products, which in their eyes are better for the environment and also healthier because they are not made with synthetic substances."
- New York Times

---

Conserving Seafood and Oceans

Q: How can you help reduce the over-exploitation of fish?

A: Get the facts and learn if something is fishy.

The crisis in the world's oceans is staggering -- 70 percent of the most valuable marine fisheries are either over-fished or fished to the limit. This exploitation is fueled by more than $10 billion annually in government subsidies that keep worldwide fishing capacity at more than twice the level that is biologically sustainable. Marine ecosystems are under further stress from destructive practices, such as cyanide and dynamite-fishing, and from "bycatch" of non-target species that claims as much as 29 million tons of fish, seabirds, turtles, and marine mammals every year.

Here are 4 steps you can take to reduce the impact on marine ecosystems and species:

Be an informed consumer of fish and other seafood. Ask where the fish you are purchasing comes from and the status of the fishery.
Do not purchase Chilean sea bass. Both Patagonia and Antarctic tooth fish are marketed as sea bass. Illegal fishing will result in commercial extinction of these fish in the Southern Ocean within two or three years.
Avoid purchasing over-exploited stocks such as Atlantic swordfish, wild-caught Atlantic salmon, and sharks. These fish take a long time to reach breeding age, so their stocks have been depleted quite rapidly. By not buying them, you can give their numbers a chance to recover in the wild.
Avoid products from fisheries with excessive levels of bycatch. Animals like shrimp (wild and farm raised), scallops (wild) and oysters (wild) tend to have large amounts of bycatch associated with them, so they should be avoided if possible.
---
Table of 43 fruits and vegetables that were tested by the Environmental Working Group for pesticide residue. The foods are ranked from worst to best (descending) and the chart will tell you what percentage of that particular fruit/vegetable had pesticides on it and how many pesticides could be detected on each fruit/vegetable. For example, peaches were the worst. 96.6% of peaches had pesticides on them. 86.6% of the peaches had 2 or more different pesticides on them. It's pretty scary stuff. Makes some foods seem a little less, um, peachy...
Rank (worst to best)

Commodity

Combined Score

Percentage of Samples Tested with Detectable Pesticides

Percentage of Samples With Two or More Pesticides

Average Number of Pesticides Found on a Sample

Average Amount (in ppm*) of All Pesticides Found

Maximum Number of Pesticides Found on a Single Sample

Number of Pesticides Found on the Commodity in Total

1
Peaches
100
96.6%
86.6%
3.1
1.134
9
42
2
Apples
96
93.6%
82.3%
2.8
0.894
9
50
3
Sweet Bell Peppers
86
81.5%
62.2%
2.4
0.138
11
64
4
Celery
85
94.1%
79.8%
3.0
0.413
9
30
5
Nectarines
84
97.3%
85.3%
3.0
0.576
7
26
6
Strawberries
83
92.3%
69.2%
2.3
0.799
8
38
7
Cherries
75
91.4%
75.8%
2.8
0.290
7
25
8
Lettuce
69
68.2%
44.2%
1.7
0.142
9
57
9
Grapes - Imported
68
84.2%
53.2%
1.8
0.284
8
37
10
Pears
65
86.2%
45.7%
1.6
0.586
6
33
11
Spinach
60
70.0%
31.2%
1.1
1.240
6
24
12
Potatoes
58
81.0%
18.0%
1.0
1.655
4
18
13
Carrots
57
81.7%
48.3%
1.6
0.046
6
31
14
Green Beans
55
67.6%
42.0%
1.4
0.199
6
35
15
Hot Peppers
53
55.0%
27.5%
1.0
0.290
6
51
16
Cucumbers
52
72.5%
31.7%
1.2
0.057
6
40
17
Raspberries
47
47.9%
23.3%
0.9
0.906
6
21
18
Plums
46
74.0%
27.1%
1.1
0.666
4
15
19
Oranges
46
85.1%
34.6%
1.3
0.100
4
18
20
Grapes - Domestic
46
60.5%
23.4%
0.9
0.104
7
31
21
Cauliflower
39
84.6%
14.6%
1.0
0.004
5
15
22
Tangerines
38
66.7%
33.3%
1.2
0.375
3
4
23
Mushrooms
37
60.2%
22.3%
0.9
0.158
5
16
24
Cantaloupe
34
53.3%
19.4%
0.8
0.026
4
25
25
Lemon
31
55.6%
10.0%
0.7
0.188
5
10
26
Honeydew Melon
31
59.2%
14.2%
0.8
0.012
4
16
27
Grapefruit
31
62.9%
15.2%
0.8
0.056
4
9
28
Winter Squash
31
41.3%
11.6%
0.6
0.017
5
26
29
Tomatoes
30
46.9%
13.5%
0.6
0.029
5
16
30
Sweet Potatoes
30
58.4%
10.0%
0.7
0.198
3
17
31
Watermelons
25
38.5%
13.2%
0.6
0.021
4
13
32
Blueberries
24
27.5%
10.0%
0.4
0.327
4
11
33
Papaya
21
23.5%
5.0%
0.3
0.053
4
19
34
Eggplant
19
23.4%
6.9%
0.3
0.013
4
15
35
Broccoli
18
28.1%
3.2%
0.3
0.004
3
19
36
Cabbage
17
17.9%
4.8%
0.2
0.121
3
18
37
Bananas
16
41.7%
2.0%
0.4
0.029
2
7
38
Kiwi
14
15.3%
3.4%
0.2
0.160
3
8
40
Asparagus
11
6.7%
0.6%
0.1
0.026
2
19
41
Sweet Peas - Frozen
11
22.9%
2.3%
0.3
0.010
2
5
42
Mango
9
7.1%
0.5%
0.1
0.057
2
13
43
Pineapples
7
7.7%
0.6%
0.1
0.002
2
7
44
Sweet Corn - Frozen
2
3.8%
0.0%
0.0
0.005
1
3
45
Avocado
1
1.4%
0.0%
0.0
0.001
1
2
46
Onions
1
0.2%
0.0%
0.0
0.000
1
2
Note: We ranked a total of 42 different fruits and vegetables but grapes are listed twice because we looked at both domestic and imported samples.
* ppm means parts per million

Updated Daily!
* * * IN-HOUSE RESOURCES * * *