1-WORLD GLOBES & MAPS Global Gifts. Corporate Gifts, Awards, Gemstone Globes, Historical Maps, Desk Accessories.
24-7 DADDYHOOD 100% Organic Cotton, Funny, Edgy, and Cool Graphic Tees for Dads and Babies
ALL NATURAL DOG BEDS Pet Bedding, Hand-Made in the USA with Organic Fabrics and Natural Latex Mattresses.
ANN-MADE Awesome, Eco-Chic Jewelry Made from Pop Tops. Beautifully Handcrafted in America. Green America Approved Business.
AQUARIAN DREAMS Unique Celestial Products, Windchimes, India Tapestries, Gemstone Jewelry, More
BABY NATUROPATHICS Organic Baby Clothing, Natural Toys and Skin Care. Includes Gift Registry, Certificates and Rewards Program.
BAREFOOT YOGA CO. Give the Gift of Yoga -- from Yoga-Inspired Jewelry, DVDs and CDs to Mats and Clothing
BEAD & REEL An Ethical Boutique, Thoughtful Handmade Gifts That Give Back
BESTMASSAGE.COM Aromatherapy Products, Essential Oils, Massage Equipment, Tools and Supplies, Organic Herbal Balls
BILLYTHETREE.COM Features a Huge Selection of Magnetic Jewelry, Jade, Sterling Silver and 14K Gold Jewelry
BLOOMIN Seed Paper Enclosure Gift Cards, A Plantable Gift Card, the Gift that Keeps on Giving
BOTTLED UP DESIGNS Jewelry from Reclaimed Antique Glass and Bottles, Each Piece Includes "The Story of the Glass"
BUTTERFLY GIFTS STORE Largest Selection of Eco-friendly Butterfly and Nature Gifts on the Internet
CERAMCOR Xtrema - 100% Green & Healthy Non-Scratch, Easy Clean Ceramic Cookware, Bakeware & Teaware
CHOPSTICK ART Recycled Bamboo Chopsticks Hand Crafted into Folding Beautiful Baskets, Soap Dishes and More.
COLORS OF NATURE 100% Earth-Friendly Art Supplies and Paints, Vegan, Non-Toxic, Safe for Artists and the Environment. Biodegradable.
CONTEMPL8 T-SHIRTS Socially Responsible Screen Printer Who Prints T-Shirts with Indelible Water-Based Inks (Your Logo on T-Shirts)
DEAR LIL' DEVAS Bamboo Bags, 100% Bamboo T's, Hemp Yoga Mat Bags, Eco-Friendly, Fair Trade, Made in Canada
DOWN & FEATHER COMPANY Quality Rest Down Comforters and Snuggle Soft Down Pillows. Chemical and Allergen Free.
EARTHSAKE Aromatherapy Candles, Yoga Supplies, Travel Pillows, Fountains,Frames and Soaps
ECO-BEAUTY Rose Beauty Gift Set, Baby Gift Set, Stone Disc Necklace, Meditation Music, Aroma Necklace Swingheart.
ECOJARZ Plastic Free Gifts, Including Mason Jar Accessories, Reusable Straws. Beautiful, Durable and BPA-Free.
ERAGEM Specializing in Magnificent Vintage and Antique Engagement Rings and Eco-Friendly Pre-Owned Estate Jewelry
FAERIE'S DANCE Organic, Earth-Friendly Clothing, Lingerie and Jewelry. Gift Certificates and Recycled Paper Gift Wrapping Available.
FAIRY COVE SILKWORKS Hand Custom Dyed - Made in USA Natural 100% Silk Gifts: Scarves, Children, Home & Decor, Fabric, All Occasions
GREENPRODUCTSANDGIFTS.COM Offers Eco Jewelry, Personalized Gifts, Candles and More Proudly Made in the USA from Recycled Materials
HUGG-A-PLANET A Perfect First World
INTERNATURAL Create Unique Gift Baskets Including Natural Bodycare, Cosmetics, Videos, Candles
LIFEFORCE GLASS Manufacturer of Printed Gift Items Sold to Retailers and Advertising Specialties for Organizations
LILY FARM FRESH SKIN CARE The Only Chemical Free, Natural Handcrafted Skin Care, You Can Buy Straight From A USDA-Certified Organic Farm.
MOMMAS BABY Organic Gifts and Gift Baskets for Mama and Baby, Baby Registry
NAMSE BANGDZO BOOKSTORE Tibetan Jewelry, Thangkas, Buddhist Books, Statues, Incense, Cards, Wall Brocade
NATURAL WORLDWELLNESS Spiritual Jewelry, Mystical Amulets, Life Enlightening Keys, Kabbala's Gold Framed Plaques, Cosmetic Natural Products
NEARLYNATURAL NearlyNatural Combo Packs Make Great Gifts for that Special Occasion
NOVICA Unique, Handmade Gifts Direct from Thaliand, Brazil, Peru, Africa, Bali and More
OF THE EARTH Handmade Paper Note Card Sets that bloom when Planted.
PALOMA POTTERY Green Gifts and Unique Glass Products by Paloma Pottery and Glass. Eco Friendly Gifts and Accessories.
PAWJ CALIFORNIA Vegan - Cruelty Free Comfort Boots Made of the Highest Quality Synthetic Suede and Faux Furs
PHOENIX ORION GIFTS 1000's of Afordable Gem Gifts,Carvings, Healing Stones, Birthstone Crystal & Spun Glass, LED Light Bases
PLANT A MEMORY "Growing Memories" Wedding Favors & Gifts: Tree Seeds, Tree Seedlings, Plantable Flower Papers for a Greener Tomorrow
QMT WINDCHIMES Manufacturer of Quality Hand-Tuned Wind Chimes and Unique Bird Feeders Made in the U.S.A.
REACH AND TEACH Transforming the World Through Teachable Moments with Books, Games, Puzzles, Toys, Curriculum, Music and Posters
REVY FAIR TRADE PRODUCTS Fairly-traded Jewelry and Bags, Handcrafted from Recycled and Sustainable Materials
SCENTSUAL EYE PILLOWS Eye-pillow Gift Sets. Choose Fabric and Scented Fillings. Thoughtful, Caring Gift for Any Occasion.
SO WELL Unique and Fair Trade Gifts and Handmade Gift Sets for All Occasions Starting at $10
SOAP FOR GOODNESS SAKE Gifts/Gift Certificates, Handmade Soap, Organic Skin Care, Miessence, Hemp Products, Beeswax Candles, Vegan Products
THE NATURE COMPANY Create Your Own Backyard Wildlife Habitat with Our Houses and Feeders
TREES FOR A CHANGE We Plant Trees as Gifts for All Occasions. Give a Gift and Restore a Forest
VICKEREY.COM Vickerey.com, Combines the Best of a Stylish Boutique with Many Earth-friendly Choices
WEST WIND FLAGS Prayer Flags in English, Tibetan Prayer Flags, Peace Flags, Rainbow Flags, Custom Flags, Handmade Cards and Gifts
YOGAMATS Yoga and Relaxation Accessories
ZEENIE DOLLZ Unique Eco-Cause 12 Inch Fashion Doll Made of 100% Recyclable, Non-Toxic Materials.
QMT WINDCHIMES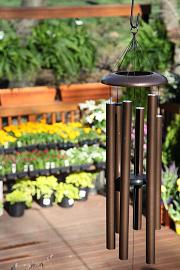 Corinthian Bells®
50-inch Windchime
Help Climate Change by Giving Eco-Friendly Gifts

Did you know that 82% of Americans would rather receive a photo album of times shared than a store-bought gift? (source: Center for a New American Dream-commissioned Holiday Poll)



Shop by Keywords Above or by Categories Below.

Updated Daily!
* * * IN-HOUSE RESOURCES * * *