BABY NATUROPATHICS Organic Cotton Baby Clothes with Certified Organic Dyes. Exquisitely Embroidered. Free Delivery with Minimum Order.
BEYOND SKIN Luxury Ethical Vegan Shoes for Discerning Style-Led Women. Made in Spain From Eco-Friendly Materials.
DAISEYE Organic and Stretchy Bamboo, Children's, Men's and Women's Outerwear, Tops, Dresses, Bottoms, Ponchos
DANISH WOOLEN DELIGHT Importing Certified Organic Woolens and Cotton from Europe for the Entire Family
DASH HEMP SANTA CRUZ Upscale Hemp Clothing, Including 100% Hemp Jeans, Hand Loomed Shirts, Tops, and More
EARTHSAKE Organic Cotton Flannel Pajamas, Refined Feminine Fit, Ultra-Soft Brushed Flannel are Perfection.
FAERIE'S DANCE Stylish, Earth-Friendly and Organic Clothing, Lingerie & Intimates. Eco-Fashions from Panties to Formal Wear.
GODDESS GEAR Organic and Natural Fiber Women's Apparel, Offering Flattering, Casual, Feminine Styles Produced in Denver, Colorado.
HYBRID HEALTH HEMP Your Feet Will Never Feel or Smell Better with Our Hemp Socks. and we Have Hemp Face Masks Too. Free Shipping for Orders of +$100
INDIGENOUS DESIGNS Organic Fair Trade Fashion, Eco-Friendly Ethically Made Clothing for Women and Men, Skillfully Created by Artisans in Peru.
INTERNATURAL Maggie's Organics organic and cotton socks, leggings, tights, scarves.
KASPER ORGANICS Affordable Organic Cotton Clothing and Accessories for Men, Women, Kids. Tees, Tops, Sweats, Socks, and More.
KNUETES Clothing Made from 100% Recycled Plastic Bottles, Polartec® Breathable, Moisture Control, Quick Dry
NOVICA Discover Handmade Peruvian Alpaca Sweaters, Indian Silk Shawls, and Balinese Sarongs at Novica
ROCKNSOCKS Original Design Eco Friendly Socks Made in the USA from Certified Organic Cotton and Pre-Consumer Recycled Cotton Yarns.
SOMMERS Wide Range In Stock, Animal-Friendly Materials, Vegan Leather and Luxurious Fur
SOUL FLOWER Organic Clothing and Boho Inspired Clothes for Free Spirits and Hippie Souls Everywhere.
SWEET SKINS Fresh Fashion in Hemp, Eco-Fleece and Other Conscious Materials
SYMPATICO CLOTHING Timeless Women's Fashions US-Crafted in Sustainable Hemp/Tencel. Tops, Skirts, Pants Made for Movement.
THE MATTRESS & SLEEP COMPANY Natural Giza Egyptian Cotton Bath Robes by Abyss, 60 Designer Colours
THE VEGETARIAN SITE Vegan and Hemp Belts, Hats, Pants, Shirts, Sweaters, Shoes, and More
UPLAND ROAD 100% Organic Cotton, Tunic Dress, Poncho/Cape, Camisole, Leggings, Men's Crewneck T-Shirt, Graphic T-Shirts

Organic Apparel
Means a Healthier Life

Leather Comes from Living Breathing Animals. Don't Wear Leather or Fur and Animal Skins.

Sustainable Fashion

Organic Cotton is the Most Skin-Friendly, Most Soothing, and Most Harmless Natural Fiber. Organic Clothing Has a Positive Impact on Our Bodies. Organic Cotton is Health-Friendly and Environmentally-Friendly.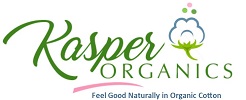 Upland Road - Eco-Boutique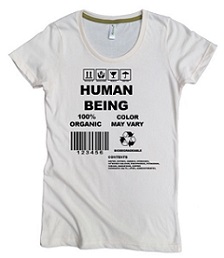 Graphic Organic Cotton T-Shirts

Ecofashion - Benefits of Organic

Organic agriculture protects the health of people and the planet by reducing the overall exposure to toxic chemicals from synthetic pesticides that can end up in the ground, air, water and food supply, and that are associated with health consequences, from asthma to cancer. Because organic agriculture doesn't use toxic and persistent pesticides, choosing organic products is an easy way to help protect yourself.

Non-organic cotton is considered the world's dirtiest crop. Conventional cotton production uses up to 25 percent of the world's chemical pesticides, herbicides, and fertilizers.

Here are some reasons why organic cotton production is important to the long-term health of the planet.

Cotton uses approximately 25% of the world's insecticides and more than 10% of the pesticides (including herbicides, insecticides, and defoliants.). (Allan Woodburn)
Approximately 10% of all pesticides sold for use in U. S. agriculture were applied to cotton in 1997, the most recent year for which such data is publicly available. (ACPA)
Fifty-five million pounds of pesticides were sprayed on the 12.8 million acres of conventional cotton grown in the U.S. in 2003 (4.3 pounds/ acre), ranking cotton third behind corn and soybeans in total amount of pesticides sprayed. (USDA)
Over 2.03 billion pounds of synthetic fertilizers were applied to conventional cotton in 2000 (142 pounds/acre), making cotton the fourth most heavily fertilized crop behind corn, winter wheat, and soybeans. (USDA)
The Environmental Protection Agency considers seven of the top 15 pesticides used on cotton in 2000 in the United States as "possible," "likely," "probable," or "known" human carcinogens (acephate, dichloropropene, diuron, fluometuron, pendimethalin, tribufos, and trifluralin). (EPA)
In 1999, a work crew re-entered a cotton field about five hours after it was treated with tribufos and sodium chlorate (re-entry should have been prohibited for 24 hours). Seven workers subsequently sought medical treatment and five have had ongoing health problems. (California DPR)

Sources: OTA's " U.S. Organic Production & Marketing Trends" report.

---

It takes 1/3 lb. of pesticides and fertilizers to produce enough cotton to make just one t-shirt.

Organically grown cotton uses beneficial insects and biological and cultural practices to control pests and build strong soil.

Hemp, bamboo and even recycled soda pop bottles are also being made into t-shirts, pants, skirts, blouses, and dresses.

Each year, non-organic cotton producers around the world use nearly $2.6 billion worth of pesticides.
Problems linked to pesticide use include: reduced soil fertility, frequent water pollution, reduced biodiversity in the surrounding areas and wild animal and livestock poisoning. Source: Pesticide Action Network North America (PANNA)

Updated Daily!
IN-HOUSE RESOURCES