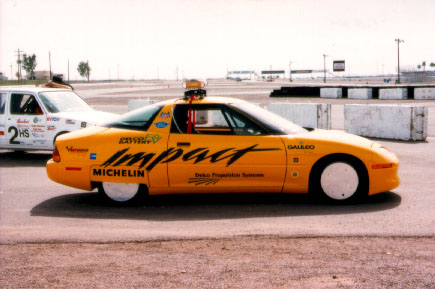 GM TO SELL ELECTRIC CARS IN TWO STATES
THE ASSOCIATED PRESS
LOS ANGELES -- General Motors Corp. said Thursday it will begin selling electric cars to the public in California and Arizona this fall, becoming the first of the Big Three automakers to get into the mass market.
The EV1
``Well, there it is. It's been a long road to getting it here,'' GM Chairman John Smith Jr. said as the automaker rolled out its nonpolluting electric car -- a sporty two-seater called the EV-1 -- at the Los Angeles Auto Show.
The EV-1 will cost in the mid-$30,000 range, plus an undisclosed amount to buy or lease a battery charger.
Its top speed is 80 mph. It has a range of about 90 miles between charges, but that can be reduced by such factors as cold weather and heavy traffic. In normal use, it's expected to travel between 60 and 70 miles.
Southern California Edison plans to have 18 recharging stations operating at stores and train stations by August.
Up to now, the market for electric cars has been limited to governments, utilities and other businesses that use fleets of vehicles.
``This is not a concept car and it's not a conversion,'' Smith said.
At a convention last month, Ford Motor Co. unveiled its electric-powered Ranger pickup and Chrysler showed its electric minivan. Neither company has said when it will begin selling them.
The state's Air Resources Board, struggling to meet federal clean-air standards in the nation's smoggiest region, had ordered that 2 percent of all cars offered for sale by major automakers release zero emissions by 1998.
After GM and other automakers complained, board officials said recently that they will probably vote in March to drop the 2 percent requirement, instead mandating only that 10 percent of cars be zero-emission by 2003.
The EV-1 will be manufactured in Lansing, Mich., and initially will be sold at Saturn dealerships in Los Angeles, San Diego, Phoenix and Tucson, Ariz.
An electric Chevrolet pickup truck will be produced beginning in 1997 at a plant in Shreveport, La., GM said. The truck, a converted model of the S-10, will have a top speed of 70 mph.
``At this point, you're talking about cars that don't go much much more than 50 miles at a stretch,'' said Kenneth Blaschke of Dean Witter Reynolds. ``And most consumers aren't willing to pay a premium for a car that does not perform as well as the car they drive today.''
The EV1
---
G.M., IN A FIRST, WILL SELL A CAR DESIGNED FOR ELECTRIC POWER THIS FALL


Excerpted from an article that appeared in The New York Times, January 5, 1996 by Lawrence M. Fisher