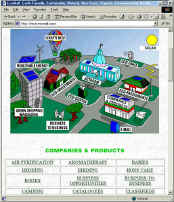 "EcoMall (www.ecomall.com), like its real-world counterparts, is a great place to browse, be entertained or just hang out. And you'll be linked to all sorts of useful environmental sites. For example, click on "Eco Investments" for mutual funds specializing in the stocks of companies judged to be environmentally responsible, or "Energy Efficient Homes" for a handy list of eco-conscious designers and architects." - Time Magazine

"Also flourishing on the Web is a green consumerism marketplace that combines online stores with resources, links and tips for reducing, reusing and recycling. EcoMall is both a shopping destination for over two dozen categories of environment-friendly products and services, and a comprehensive environmental resource for energy conservation, recycling centers and community forums. "- The New York Times

"Environmentally-conscious? Check out listings of ecology-minded investments, gifts, restaurants, and business opportunities."
- Popular Science Magazine

"Unlike the nonvirtual world, where health food and environmentally conscious stores are often few and farbetween, the Net has made it possible to connect many environmental retailers under one cyber-roof. Products for sale at the EcoMall range from air-purification systems to vitamins and water. Founded in 1994, EcoMall houses200-300 environmentally conscious stores..." - MSNBC Online

"This 'city' of environmental data will make other similar sites green with envy."- America Online Web Center

"Everything's green here! Daily Eco News, renewable energy info, links to responsible companies and investments, even an eco-friendly long distance service."- Microsoft Network Siteseeing Guide

"This attractively designed site provides access to environmentally responsible companies and products, activist alerts, daily news, information on eco-investing, and links to environmental groups." - New Age Journal

"Mall With a Mission: EcoMall, self dubbed "A Place to Help Save the Earth," has hundreds of links to on-line environmental action groups. A stroll through leads to eco-friendly businesses, action alerts and activist organizations, including Earth Island."- Earth Island Journal

"Dedicated to teaching how to live your life green, the site features a national guide to ecologically sound restaurants (the list includes many vegetarian places). Other highlights are daily eco-news, a business-to-business directory, and a guide to environmentally safe products." - Vegetarian Times

"EcoMall
is a no-frills effort with an admirable goal. It links to companies that sell green-friendly products online. From yoga mats to solar-powered computers, these are items you will be hard-pressed to find elsewhere." - Yahoo! Internet Life: Web Malls
"Ecologically and environmentally friendly products, services, andinformation. Covers, businesses, investments, activism,communications, and renewable energy. Many products and services areadvertised or listed, organized by category or product. EcoMall is acomprehensive resource for those who want to make their lives moreenvironmentally responsible. A wide array of products and services islisted along with ordering information. If a topic is not covered here,the site's substantial link directory likely will be able to connect toa site that provides coverage." - Four Star Superior from Newsweek - Britannica
"Hug A Tree, Then Buy It! EcoMall 'tis a mall for greenies -- buy stuff online and "help save the world" at the same time". - Net Guide, Shopping Site Of The Day
EcoMall "A massive clearinghouse for environmentalist shopping that also features activist information, forums, news, chat lines and more." - The Nation Digital Edition
"A great site for anyone interested in companies that buy or sell 'green' products or services. There's a section on 'companies and products' that lists environmentally friendly businesses by industry, and a huge list of links to other environmental Web sites" - AT&T Business Network
"Shopping at the EcoMall: Solar products, books, gifts and things for the home, garden and office. The items sold here are useful, healthy, educational and best of all, earth-friendly. " - NYNEX's BigYellow Pages
"You're in the right neighborhood if you want to save the Earth. Merchants sell eco-friendly products, and money managers have an eye on healthy investments. Resources point you to news and views and great places to eat. There are chat rooms and forums. " - Snap! Online's "Best of the Web"
"The EcoMall site provides a great place for businesses to stay ahead of the curve when marketing to the growing legions of eco-friendly consumers." - A Business Compass Site
"An environmentalist's dream ... you'll find lots of eco-friendly items to buy." - PCComputing Top 25 Internet Cybermalls
"One of the oldest and most interesting sites on the Internet." - In Business Magazine (Cover story about Ecoproducts Online)
"EcoMall takes the "mall" part of its name seriously: There's one-stop environmental shopping here. But there's also a good deal of green information and links to many organizations and publications, including E Magazine."- E Magazine (Cover story about The Virtual Environment)
"In short, visit the EcoMall for the ultimate positive shopping experience" - From the Book 1001 Really Cool Web Sites By Edward J. Reneham - page 674
"EcoMall is an electronic, environmental meeting and networking place for anyone interested in the environment... It is a valuable tool for environmentalists, and lives up to its slogan: A Place to Help Save the Earth" - GREEN Magazine (Global Rivers Environmental Education Network)
"The fine folks at EcoMall wish to enlighten the global public on environmental issues. This site includes environmentally friendly products, eco-companies and investments, activism and more."
- EXCITE
"If you're shopping for the latest environmental news, views, and venues, look no further, as this site leaves no stone unturned... Find environmental products, catalogs, magazines, videos, books, CDs, and any environmental organization under the sun. You may never need to go anywhere else to protect our planet." - HomeArts Hot Link of the Day
"An environmentalist's dream, EcoMall proves that, unless you're Kermit the Frog, it is easy being green." - Columbia House, House Hot Links
"Environmental products and activism never seemed so exciting until now. Here's a colorful eco-oriented commercial site sporting clever representations of renewable energy, activities, eco-investments, environmental companies and products, and healthy restaurants. Not only can you find all sorts of information about each item, but there are scores of links to relevant articles on issues important to the earth." - Jump City "The Best Of The Web" Review
ECOMALL AWARDS:
The Net Magazine "Top 100 Web Sites of All Time", Net Guide "Shopping Site Of The Day", Columbia House "House Hot Links", McKinley "4-Star Site", All Internet Shopping Directory's "Top Shopping Site Award", Microsoft Network "Featured Site", Snap! Online "Best of the Web", Interactive Age "Hotlist", OutstandingEducation-Related Site on the Web by The Education Index , Top 1% of the Web 21 Century Renaissance, PCComputing "Top 25 Internet Cybermalls", Infoseek "Select Site", GreenU Site of the Month, Mac's Picks of the Week, Jump City "The Best Of The Web", Mallpark's "Top Vendor Award", Password Pick, LookSmart "Editor's Choice Award", True Style Award, CyberTeddy's Top 500 WebSite award, Starting Point "Choice", Eco Network "Coolest Environmental 100", Tek Design Award, Virtual Communities Network "Green Site of the Week" Award, Main Street Earth "Magna", Cool Reality Award, WebActive "Featured Site", Webscout "Way Cool Site", "Elite Site Award", "Web Crawler SELECT", "Critical Mass Award", Walking the World Wide Web "Premiere Site", HOT SITE! Award, Study Web "Academic Excellence", Healthlinks "Select Site", Riddler's "Choice", Links2Go Key Resource award, CyberGuild 2000's BEYOND award, Info Service "Super Site", VCH "Green Site of the Week", Exploratorium's Learning Studio "Ten Cool Sites of the Month" Award
TESTIMONIALS:
"Half of the traffic to our web site comes from the EcoMall."
David Harrison
Trad Hound Clothing
"We have been impressed with how easily potential customers have found us at the EcoMall site. And because of the interesting mix of businesses and organizations in the Mall, we hear not only from the customers looking specifically for recycled papers, but also general environmentally-conscious shoppers who find us "by accident".
Jeff Davis
Full Circle Paper Outlet
"I am so happy with the tremendousresults we are experiencing due to your fabulous website."
Sincerely,
Michelle Chaplin Nichols
Snugglebundle Baby Products
"In the midst of slow Internet sales, your mall has really helped to promote the product and to get us known. At least half of the traffic to our site and sales of VegiWash through the Internet have been because of EcoMall."
Cordially,
Michael Mahone
Consumer Health Research
"The clients that we set up with ads on EcoMall both reported a boost in traffic of about 15% to 20% since their addition."
Bion D. Howard
EEBA & Cellulose
"Before EcoMall we had no www exposure, but as soon as we wereat the site, we were getting a few catalog requests a day - and soonorders. EcoMall has by far been themost hassle free advertising and generated the greatest response. This isobviously a great value - especially compared to print advertising."
Monica St. Marie
Recycled Trash Company
"I just wanted to drop you a note to tell you that having a web page with EcoMall has been both a wise and fruitful investment. Almost everyone that calls, having seen the page, has bought an Austin Healthmate of one kind or another. The pages paid for itself within the first 2 months and now all the sales since are helping to grow my business. I might mention also that because of my web page with you I was contacted by a very large company based overseas; they didn't buy air filters however, we have been negotiating a very large water filter deal, which could mean a very handsome income for my company.All in all I am exceptionally pleased and grateful that I have a page with EcoMall and can honestly recommend your site without reservation.You're doing a great service to the planet and all who visit and use this wonderful resource. Thanks for putting such an innovative idea together, it's a great thing you're doing!"
All the best,
Arthur Dworin
President, Pollution Solution Co.
"Don't be fooled by the cutesy town-square bit map and baby-blue cloud motif; EcoMall takes its activism seriously...this site teaches the budding environmentalist how to walk, talk, and even shop like a good little Earth citizen. Information about eco-politics and news abounds, and there are exhaustive links to every environmental activist group you could ever hope to join. Also learn about environmentally safe food, clothes, and businesses." - The Net Magazine "Top 100 Web Sites of All Time"
How to Advertise
THANK YOU FOR YOUR SUPPORT!


Updated Daily!
IN-HOUSE RESOURCES