Tips, Ideas and Nutrition Information for Healthful and Sustainable Living





Questions and Answers About Vegetarianism


HAVE A FAVORITE VEGETARIAN RESTAURANT?

If you know of a great vegetarian restaurant we have not included
please e-mail us the information (Include as much information as possible: Name, Address, Phone, Menu and Type of Food.- THANK YOU!
If you know of any great restaurants we're missing, please e-mail us for a free listing.
America's best vegetarian restaurants - From - Timeout
Chicago Diner, Chicago
Even non-vegetarians know Chicago Diner. The vibe is normal, everyday diner, albeit with soy milk, tofu and tempeh on the giant menu. Waits for weekend brunch can get painful (even though the menu is served daily), but patient non-meat-eaters are rewarded with flaky soy margarine biscuits. Of the non-brunch options, the tofu- and veggie-packed soul bowl is a healthy pick, and if you still have room, try the vegan caramel crunch torte or the thick, perfect milkshakes for dessert.
Clover Food Lab, Boston
Clover has become something of an empire. Its food truck fleet has expanded handsomely, and you'll find brick and mortar food labs in Burlington, Vt, Brookline, Mass and all over Cambridge, Mass. While waiting in the inevitable line, you'll hear a lot of chatter about the chickpea fritter: golden-fried falafel, hummus, a drizzle of tahini and red pickled cabbage stuffed into a hearty bun. But the egg-eggplant sandwich and the savory stuffed popovers offered for breakfast have their vocal proponents as well. Alongside your feel-good selection, sip a brown-sugar lemonade or hibiscus iced tea.
Dirt Candy, NYC
Fueled by the ambition to make people crave vegetables, Amanda Cohen revived her beloved East Village eatery on the Lower East Side with a ramped-up menu and a space three times the size of the 18-seat original. Emblazoned with a mural of greenery by graffiti artist Noah McDonough, Dirt Candy's sprawling dining room is focused on the open kitchen at its heart—complete with a chef's counter—and a full bar along one wall. Much like the plates of Cohen's past, each dish is anchored by one vegetable, but her retooled offerings layer multiple ingredients.
Elf Cafe, L.A.
Elf Cafe is a quintessential Echo Park restaurant—a tiny, romantic eatery where veggies are turned into complex dishes. Chef Dave Martinez is serious about his food philosophy, from local and non-GMO ingredients to specified sea salts and cooking oils. Early proponents of the kale salad, the kitchen at Elf also makes a rich, wild exotic mushroom risotto and a kofta with saffron couscous, speckled with orange blossom dates and crispy chickpeas.
The Gadarene Swine, L.A.
In a charming Studio City bungalow sits The Gadarene Swine, a mostly vegan (some honey is used) restaurant from chef Phillip Lee and his pastry chef wife, Margarita Lee. Whether you opt for the tasting menu or order à la carte, you'll find olives transformed into deep-fried bites, cauliflower whipped into a savory base and mushrooms so thick you'll think you're biting into beef. For dessert, the grapefruit cotton candy awaits.
The Gothic; Belfast, ME
This fine-dining destination lives up to both its setting in a beautiful 19th-century red-brick building and the reputation of its owner, raw-food pioneer Matthew Kenney. As expected, The Gothic's ever-changing menu is largely vegan and raw—but not entirely, which means you'll find zucchini "lasagna" with macadamia "mozzarella" next to sweet-potato fritters with nettle chutney or wilted greens with pears and coconut "bacon" in chive-buttermilk cream—all plated with a painterly flourish and accompanied by libations from the full bar. There's also an all-BOS (biodynamic/organic/sustainable) wine list.
Gracias Madre, San Francisco
Mexican and vegan are not terms you would expect to sidle up against each other in a restaurant concept, but Gracias Madre has not only married the ideas; it's done so with spectacular success. Antojitos (street-food-inspired starter snacks) such as grilled potato-masa gorditas topped with salsa verde and cashew cream, and sweet potato and caramelized onion quesadillas topped with cashew cheese and pumpkin-seed salsa are full of piquant flavor and meaty textures that don't suffer in the least from their lack of animal ingredients. Main plates such as nopales (prickly pear cactus) topped with pico de gallo and cashew cheese, accompanied by black beans, rice and handmade tortillas, and an heirloom masa tamale stuffed with seasonal veggies will leave you satisfied and possibly rethinking your preconceived notions of vegan food.
Greens, San Francisco
A pioneer of farm-to-table vegetarian cuisine for more than three decades, Greens almost singlehandedly exploded the stereotype of vegetarian cooking as a variation on alfalfa sprouts and tofu. The restaurant has a prime waterfront location, with the Golden Gate Bridge as backdrop, and chef Annie Somerville's wildly inventive and flavorful menu continues to win the battle of carnivore hearts and minds. Dishes such as warm cauliflower salad with crisp capers and pine nuts; coconut risotto cakes in red curry; or wild mushroom and caramelized onion gratin with fromage blanc custard could have you swearing off meat altogether. If you can't get a dinner reservation, go for brunch when the kitchen dreams up some of its most imaginative offerings, such as spiced carrot cake pancakes and ciabatta French toast or merguez poached eggs with vegetable ragout, grilled polenta and goat cheese.
Kajitsu, NYC
There's no shortage of cheap ramen joints in postgrad mecca Murray Hill, but house-made soba crowned with shaved black truffles? You'll only find elevated versions like that at Kajitsu. The minimalist, Michelin-starred den displays a devotion to produce, influenced by the monk-approved shojin-ryori (vegetarian) tradition. The sublime fare has made it a cult favorite among top-notch toques like Momofuku's David Chang. In the small, bare dining room or at the eight-seat chef's counter, choose from two ever-changing menus—four or eight courses—each paired with sake, if you like.
Leaf Vegetarian Restaurant; Boulder, CO
As it nears its second decade in one of the nation's greenest towns, this tranquil herbivores' haven off Pearl Street just keeps getting better. Smartly conceived and handsomely presented, longtime chef Rachel Best's seasonal creations range from the sophisticated—pineapple gazpacho, sesame-crusted beet steak, oyster-mushroom paella—to the soothing, as with pimiento-stuffed jalapeño poppers and a sumptuous portabella-quinoa-walnut cheeseburger for lunch. Craft cocktails, shrubs and BOS wines clinch Leaf's reputation as a date-night refuge for legions of, well, leaf eaters.
Mana Food Bar, Chicago
At this shoebox-size meatless mecca, global vegetarian fare is gobbled up by diners lounging on chunky wood stools and in dark booths under dim lights. Most dishes at Mana are available in small and large sizes, so even a party of two can sample lots of dishes. Our favorites include the sesame noodles, bibimbap and a fresh panzanella, and you'll probably see at least one brown-rice-mushroom slider delivered to every single table. House-made ice creams make a great ending, unless you're looking to drink dessert, in which case go for the cucumber Sakerita.
Natural Selection; Portland, OR
Natural Selection's Aaron Woo has an apt last name for a chef who has seduced all of PDX with his weekly changing four-course prix fixe, prepared in the open kitchen of his intimate 30-seat space. Truffled leek arancini, kabocha gnocchi with mushrooms and pears, lavender-scented melon soup with figs and coconut panna cotta: each dish (the majority of which are vegan and gluten-free) is more elegant than the last, paired with wines from sustainability-minded boutique producers. (Or craft beer, or cocktails—or intriguing virgin concoctions, like the turmeric spritzer, for that matter.)
Plant; Asheville, NC
Since 2011, vegan chef Jason Sellers has been turning out special occasion-worthy meals, amuses-bouches and all, from his perch in the open kitchen of Plant's airy, modern dining room. Asian, Latin and Mediterranean influences undergird the seasonal menu—consider uttapam, a south Indian savory pancake, flavored with watercress and coconut; game-changing raw enchiladas; and a cannolo à la mode redolent of anise and bergamot. But it's the applewood-smoked "portohouse" mushroom steak that's got the number of carnivores.
Roots; Louisville, KY
Through a landscape of hot browns and mint juleps, Coco Tran has been blazing tofu-and-tea trails for decades. Among her other firsts, Zen Garden introduced locals to Asian vegetarian cuisine; in 2011, she built on that foundation with the launch of counter joint Heart & Soy—featuring the only tofu-manufacturing machine in Kentucky—and its upscale next-door sibling, Roots. In serene, streamlined Japanese-style environs, Tran delivers vibrant East-West fusion fare: an insalata caprese with smoked-tea vinaigrette or fried oyster mushrooms with wasabi aioli here, forbidden-rice risotto with cherries and walnuts there. To complement it all, she eschews booze in favor of an array of fine teas, spanning the globe from Taiwan to Malawi.
Seva; Ann Arbor and Detroit, MI
Frankly, few leaders of the hippie-era natural-foods movement have aged well. Seva is an exception. Opening in Ann Arbor in 1973, it recently moved into sleek new digs resembling those of its younger Detroit sibling; the drive to evolve shows equally in the breadth of its offerings. Alongside old favorites like General Tso's cauliflower and butternut-squash enchiladas, both branches present a slew of weekly specials as well as gluten-free, kids' and happy-hour menus; there's also an "answer book" to check recipes for allergens. The bar pours everything from house-made beet-sugar sodas and fresh-squeezed juices to local craft drafts and cocktails, and a dedicated pastry chef—rare outside of high-end restaurants—prepares seasonal desserts.
Tree House; St. Louis, MO
Back in 2013, Tree House broke ground as the lone full-service vegetarian establishment in a city best known for its barbecue. With a colorfully cool vibe and a full bar, the instant hit remains beloved for its bold twists on classics—house-made seitan replaces beef in a Wellington drizzled with sesame-chili oil; dates and cashews transform banana-cream pie into a raw torte; a brunchtime bagel with cream cheese stars cured-tomato slices in lieu of lox. Local beers and inventive cocktails built around seasonal produce seal the deal for devotees.
Vedge, Philadelphia
Light-years from the mom-and-pop health-food huts of old, this husband-and-wife-run sensation joined the vanguard of the modern vegan movement the moment it opened in 2011. Warmly polished decor sets the mood for a menu that's at once progressive and playful, incorporating vegetables you may never have heard of before (tromboncino squash? piracicaba broccoli?) into complex dishes that showcase their versatility—terrines, pastas, roulades, you name it. Granted, these days Vedge has some serious competition: its own sibling, the slightly more casual and funky V Street.
---
"I have always eaten animal flesh with a somewhat guilty conscience. So I am living without fats, without meat, without fish, but am feeling quite well this way. It always seems to me that man was not born to be a carnivore." -Albert Einstein
Organic foods last longer, taste better, are more wholesome, and are better for the environment.
The 12 Most Toxic Fruits and Vegetables
Known as the Dirty Dozen, conventionally grown peaches, apples, sweet bell peppers, celery, nectarines, strawberries, cherries, pears, imported grapes, spinach, lettuce and potatoes contain the highest levels of pesticides, according to the Environmental Work Group (EWG), a nonprofit research organization in Washington, D.C.
Up to 20 different pesticides are used in the traditional production of the Dirty Dozen and contrary to popular belief, simply washing or peeling your fruits and vegetables doesnt guarantee elimination. The pesticides used are often absorbed into the plants which allows them to bind to the fruits and vegetables, making it impossible to eliminate their presence.
The chemicals within these pesticides are reported to disrupt your immune system, nervous system, reproductive system and hormonal system.
Consumers who switch to organic versions of these foods could cut their pesticide exposure by almost 90 percent, according to EWG. It analyzed nearly 43,000 tests conducted by the Department of Agriculture,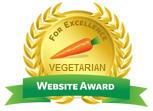 We at VegOnline.org are pleased to present you with the Vegetarian Website Award for excellence in vegetarian information! We understand the value of free, accessible information regarding vegetarian and veganism: great recipes, insightful articles, and tips to make people's diets that much healthier. Eco Mall helps further the vegetarian cause, and we think you should be honored as such.
Thank you for everything Eco Mall does to increase food awareness – your service is highly valued.
"The most political act we do on a daily basis is to eat." - Jules Pretty
Plant-based diet can help save the planet.
"The human appetite for animal flesh is a driving force behind virtually every major category of environmental damage now threatening the human future— deforestation, erosion, fresh water scarcity, air and water pollution, climate change, biodiversity loss, social injustice, the destabilization of communities, and the spread of disease." - Editors, World Watch
"Nothing will benefit health and increase chances for survival of life on Earth as the evolution to a vegetarian diet." - Albert Einstein
"The question is not, can they reason?, Nor, can they talk?, But can they suffer?" - Jeremy Bentham
"It may take a while, but there will probably come a time when we look back and say, 'Good Lord, do you believe that in the 20th century and early part of the 21st, people were still eating animals?" - Mary Tyler Moore
Amount of water needed to produce 1 pound of wheat: 25 gallons
Amount of water needed to produce 1 pound of beef: 2,500 gallons
A 16-year study of 6000 vegetarians and 5000 non-vegetarians in the UK found that the vegetarians generally had lower LDL cholesterol levels and lower death rates for each of the mortality endpoints studied.
Here are the list of ten things vegans don't eat.
1. Meat. – obvious, yes.
2. Fish and shellfish. – some don't eat Omega-3 Fish Oil supplements if they are from real fish.
3. Dairy products. – everything from milk and yogurt to cheese and butter.
4. Eggs. – that means mayonnaise and anything else made with eggs like most brownies and cakes, too!
5. Honey. – Bees are animals. Bees make honey. Vegans don't eat it.
6. White sugar. – Some white sugar is processed with bone char, according to PETA. (I had no idea!!)
7. Most beer. – Guinness Beer is filtered using tiny amounts of gelatin derived from fish bladders. And it's not alone. While some beers are vegan, others are filtered using egg whites or sea shells, according to barnivore, a vegan beer and wine guide.
8. Some breads. – while many simple breads are a-OK, containing just four ingredients (flour, yeast, water, and salt) many breads and baked goods are made with whey (a dairy product) or with butter, eggs, or sugar.
9. Marshmallows. – these and other foods, like gummy candies and Frosted Mini Wheats cereal, are made with gelatin — a protein made from boiling skin, bones, and other animal parts. Surprisingly, though, a lot of junk food qualifies as vegan, even if it is unhealthy.
10. Salad dressing. Salads are great for vegans, but not necessarily the dressing. Scan the ingredient list, and you'll often find lecithin, which helps keep oil and vinegar from separating, and can be derived from animal tissues or egg yolk (both no-no's for vegans) or from soy (OK).
Tips, Ideas and Nutrition Information for Healthful and Sustainable Living


Questions and Answers About Vegetarianism
---
Eating Organic Decreases Pesticide Levels in Kids

A recent study by Environmental Health Perspectives (March, 2013) found that children who ate primarily organic produce and juice had one-sixth the level of pesticide byproducts in their urine compared with children who ate non-organic food. The study compared children who ate produce and juice that was at least 75% organic with kids eating at least 75% non-organic.

Source: National Library of Medicine
---
The ABC News poll said that 55 percent of Americans surveyed said they would avoid foods carrying a biotech label. However, that survey response rose to 62 percent among women, who do most of the food shopping for U.S. families.
---
The sale of organic foods and beverages climbed to $11 billion in 2012, according to a new report by the U.S. Market for Organic Foods and Beverages. This means the annual sales of organic foods grew 1000 percent between 1990 and 2012.
Globally the Organic Food market in 2001 was estimated at $26 billion and is expected to reach $80 billions by 2018.
Support organic farming! Buy products made without pesticides, herbicides, artificial preservatives, or genetic engineering.
---
PESTICIDES IN CHILDREN
A study from the University of Washington reports that school children eating conventionally grown fruits and vegetables are more likely to exceed EPA safety thresholds for organophosphate pesticides than children eating organic produce. Organophosphate metabolites inchildren eating conventionally grown foods were nine times higher than in children eating organic foods. Professor Richard Fenske,research scientist Cynthia Curl and graduate student Kai Elgethun note that consumption of organic produce represents a relatively simplemeans for parents to reduce their children's pesticide exposure. (PCC Sound Consumer, February, 2013.)
---
Table of 43 fruits and vegetables that were tested by the Environmental Working Group for pesticide residue. The foods are ranked from worst to best (descending) and the chart will tell you what percentage of that particular fruit/vegetable had pesticides on it and how many pesticides could be detected on each fruit/vegetable. For example, peaches were the worst. 96.6% of peaches had pesticides on them. 86.6% of the peaches had 2 or more different pesticides on them. It's pretty scary stuff. Makes some foods seem a little less, um, peachy...
Organic food makes sense for healthy living and a cleaner and safer environment!
In a review of more than 100 research studies from around the world, the Physicians' Committee for Responsible Medicine found evidence that the vegetarians studied had 57 percent less heart disease, 40 percent less cancer, and 50 percent less high blood pressure than meat eaters.
"Genetically modified food is viewed as unsafe by most [Americans], and the public wants warning labels on food, a new ABCNEWS.com poll finds. 52% believe such foods are unsafe, and an additional 13% are unsure about them. 93% say the federal government should require labels on food saying whether it's been genetically modified . 57% also say they'd be lesslikely to buy foods labeled as genetically modified. The image problem of genetically modified food is underscored by contrast to organic foods.While only five percent of Americans say they'd be more likely to buy a food labeled as genetically modified, 52 percent say they'd be more likely to buy food that's labeled as having been raised organically."
The government agrees, it makes sense to eat organic foods to avoid certain chemicals. The Office of Children's Health Protection at the Environmental Protection Agency declares that "children are at greater risk of pesticide exposure than most adults," and goes on to warn that "pesticides may cause a range of harmful health effects," including cancer and injury to the nervous system, lungs and immune system.
"Organic farming became one of the fastest growing segments of U.S. agriculture during the 1990's, and producers, exporters, and retailers are still struggling to meet consumer demand for a wide range of organic products," the USDA said in the April issue of its "Agricultural Outlook" magazine.
Vegan foods with Highest Toxic Pesticide Residues
1. Fresh Peaches
2. Winter Squash
3. Apples
4. Pears
5. Fresh Spinach
6. Green Beans
7. Grapes
8. Celery
9. Lettuce
10. Soybeans
11. Potatoes
12. Tomatoes
13. Carrots
14. Oranges

Note: Insufficient data for berries - Consumers Union
---
New Study Finds Organic Is Healthier
We've all suspected it. Now, a growing body of scientificevidence is indicating that organic food is healthier thanconventional produce. Researchers from the University ofCopenhagen recently reported that organically grown producehas higher levels of nutrients when compared withconventional produce.
Specifically, the organic crops had a higher concentration of vitamins and far more secondary metabolites, which arenaturally occurring compounds that help immunize plants fromexternal attack. Some of these metabolites are thought tolower the risk of cancer and heart disease in humans.
Rank (worst to best)

Commodity

Combined Score

Percentage of Samples Tested with Detectable Pesticides

Percentage of Samples With Two or More Pesticides

Average Number of Pesticides Found on a Sample

Average Amount (in ppm*) of All Pesticides Found

Maximum Number of Pesticides Found on a Single Sample

Number of Pesticides Found on the Commodity in Total

1
Peaches
100
96.6%
86.6%
3.1
1.134
9
42
2
Apples
96
93.6%
82.3%
2.8
0.894
9
50
3
Sweet Bell Peppers
86
81.5%
62.2%
2.4
0.138
11
64
4
Celery
85
94.1%
79.8%
3.0
0.413
9
30
5
Nectarines
84
97.3%
85.3%
3.0
0.576
7
26
6
Strawberries
83
92.3%
69.2%
2.3
0.799
8
38
7
Cherries
75
91.4%
75.8%
2.8
0.290
7
25
8
Lettuce
69
68.2%
44.2%
1.7
0.142
9
57
9
Grapes - Imported
68
84.2%
53.2%
1.8
0.284
8
37
10
Pears
65
86.2%
45.7%
1.6
0.586
6
33
11
Spinach
60
70.0%
31.2%
1.1
1.240
6
24
12
Potatoes
58
81.0%
18.0%
1.0
1.655
4
18
13
Carrots
57
81.7%
48.3%
1.6
0.046
6
31
14
Green Beans
55
67.6%
42.0%
1.4
0.199
6
35
15
Hot Peppers
53
55.0%
27.5%
1.0
0.290
6
51
16
Cucumbers
52
72.5%
31.7%
1.2
0.057
6
40
17
Raspberries
47
47.9%
23.3%
0.9
0.906
6
21
18
Plums
46
74.0%
27.1%
1.1
0.666
4
15
19
Oranges
46
85.1%
34.6%
1.3
0.100
4
18
20
Grapes - Domestic
46
60.5%
23.4%
0.9
0.104
7
31
21
Cauliflower
39
84.6%
14.6%
1.0
0.004
5
15
22
Tangerines
38
66.7%
33.3%
1.2
0.375
3
4
23
Mushrooms
37
60.2%
22.3%
0.9
0.158
5
16
24
Cantaloupe
34
53.3%
19.4%
0.8
0.026
4
25
25
Lemon
31
55.6%
10.0%
0.7
0.188
5
10
26
Honeydew Melon
31
59.2%
14.2%
0.8
0.012
4
16
27
Grapefruit
31
62.9%
15.2%
0.8
0.056
4
9
28
Winter Squash
31
41.3%
11.6%
0.6
0.017
5
26
29
Tomatoes
30
46.9%
13.5%
0.6
0.029
5
16
30
Sweet Potatoes
30
58.4%
10.0%
0.7
0.198
3
17
31
Watermelons
25
38.5%
13.2%
0.6
0.021
4
13
32
Blueberries
24
27.5%
10.0%
0.4
0.327
4
11
33
Papaya
21
23.5%
5.0%
0.3
0.053
4
19
34
Eggplant
19
23.4%
6.9%
0.3
0.013
4
15
35
Broccoli
18
28.1%
3.2%
0.3
0.004
3
19
36
Cabbage
17
17.9%
4.8%
0.2
0.121
3
18
37
Bananas
16
41.7%
2.0%
0.4
0.029
2
7
38
Kiwi
14
15.3%
3.4%
0.2
0.160
3
8
40
Asparagus
11
6.7%
0.6%
0.1
0.026
2
19
41
Sweet Peas - Frozen
11
22.9%
2.3%
0.3
0.010
2
5
42
Mango
9
7.1%
0.5%
0.1
0.057
2
13
43
Pineapples
7
7.7%
0.6%
0.1
0.002
2
7
44
Sweet Corn - Frozen
2
3.8%
0.0%
0.0
0.005
1
3
45
Avocado
1
1.4%
0.0%
0.0
0.001
1
2
46
Onions
1
0.2%
0.0%
0.0
0.000
1
2
Note: We ranked a total of 42 different fruits and vegetables but grapes are listed twice because we looked at both domestic and imported samples.
* ppm means parts per million

Updated Daily!
IN-HOUSE RESOURCES