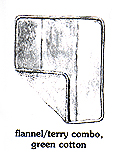 Flat diapers are simple square or rectangular pieces of fabric usually made of birdseye or gauze cotton which is folded to suit the size. These are then pinned or clipped to keep them in place. Prefolded diapers have a few extra layers of fabric sewn to the center, making them more absorbent where it's most needed. Contoured diapers also have extra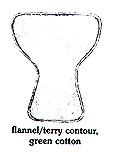 layers of fabric sewn to the center but are shaped like an hourglass. This diapering style requires the use of a waterproof cover over top of the cotton diaper to make the system waterproof.
2.

Fitted Diapers- These expand on the contoured style of diapers by adding elastic to the leg and waist openings. This virtually eliminates any chance of bowel movement leakage. Fitted diapers are usually made of flannelette, but some use stretch knit cotton terry for added comfort and absorbency. These diapers close using snaps or hook and loop closures (Velcro) which eliminate the need for pins.
3.

All In One Diapers- These diapers combine the fitted cotton diaper with the outer waterproof cover into one product. These are the most convenient to use because the waterproof cover is attached to the diaper, making cloth diapering a one step process.
This seems like the ideal alternative to disposable diapers. This style of diaper is ideal to supplement other cloth diapers when convenience is a factor such as a quick diaper change at the mall.
Outer Waterproof Covers
The first two styles of cloth diapers require a waterproof cover to keep the baby's clothing and bedding dry.
Diaper covers are available in a number of different fabrics depending on your budget and preferences. The covers found in department or drug stores are usually made of plastic, are lower priced and don't last as long as the new high tech fabrics. Some parents prefer wool covers, which have a natural water resistance. These are breathable and can be good for children with very sensitive skin, but moisture does penetrate because they are only water resistant. Both of these styles pull up over top of the cloth diaper. Wool covers often are available with hook and loop (Velcro) closures.
Most common in modern diaper covers are fabrics such as polyester or cotton bonded to a urethane laminate. This creates a waterproof barrier while giving the baby the feel of a cotton diaper cover. Knit polyester covers are the most durable and easiest to maintain of the high tech styles on the market. Modern covers usually wrap around the diaper and close using hook and loop (Velcro) or snap closures.
Absorbent Liners
Absorbent liners are made of many layers of cotton and can be added to a diaper for additional absorbency. They would typically be used during naps, overnight, or when going out for a few hours.
Disposable Liners
Disposable liners are an optional accessory in cloth diapering. They are placed on the cloth diaper and allow for quick clean-up when the diaper is soiled. These liners are lightweight and are simply discarded after use. Please note they may not be appropriate for use with septic systems.
Soft Cloth Wipes
Soft cloth wipes are available from most manufacturers. These usually come in a very handy size made of flannelette or knit terry and are chemical free. A thermos with warm water at the changing station is a very handy idea for moistening the cloth during cleanups.
Why do Parents Choose Cloth
1. Parents wanting to use cloth diapers have a genuine concern for the health of their children. They no longer trust the chemical laden disposable with their absorbents and perfumes.
2. Environmental issues which are always making the headlines, motivate some parents to absolutely refuse to use disposables. Some even cart their trusty cloth diapers with them onto airplanes and into hotel rooms.
3. Cloth diapers are far less expensive than the weekly purchase of disposables over a two to three year period.
Written by: Erika Froese
---
RELATED LINKS:
Click below to e-mail this article to a friend
or to post a link on your favorite sites.
Thank you!