CAMPBELL GOES ORGANIC

Campbell Soup Company is launching its first certified organic product, new Campbell'sŪ Organic Tomato Juice. Made from 100% certified organic tomatoes, the new juice variety carries the United States Department of Agriculture (USDA) Organic Seal. It will be available in 46-ounce, multi-serve plastic bottles at mainstream and specialty supermarkets nationwide by November.
The launch of Campbell's Organic Tomato Juice marks Campbell's foray into the organic arena. The organic food aisle is one of the most vibrant sections in today's supermarket environment, having grown 15-20% annually over the last 10 years, according to the Organic Trade Association, a membership-based business association representing the organic industry in the United States, Canada and Mexico.
"Campbell recognizes the tremendous growth in organic products and as the number one national brand, we wanted to expand our offerings to give consumers an organic option within the tomato juice category," says Sean Connolly, Vice President/General Manager of Campbell's Beverage Division. "We are very excited about the opportunities that this new product represents."
Campbell's first organic tomato varieties were planted in April, bred from seedlings selected by Campbell's Seeds Company in Davis, California. Campbell contracts with certified organic farmers in California who meet the highest standards to grow Campbell's organic vine ripened tomatoes. The tomatoes were harvested in early August and processed on certified lines in Campbell's Sacramento facility within 48 hours. The juice started shipping to stores on September 5th and full national distribution for the product is expected in November. The suggested retail price for the multi-serve plastic bottle is $2.69.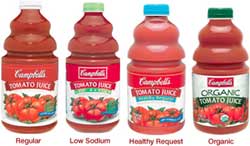 Click below to e-mail this article to a friend
or to post a link on your favorite sites.
Thank you!
Written by: Campbell Soup Company
---
RELATED LINKS:

Updated Daily!
* * * IN-HOUSE RESOURCES * * *