THE HONDA EV+ EXPERIENCE

The Honda EV+ is a purpose-built electric vehicle, not a conversion ofan existing gasoline powered car. It is a two-door hatchback, with fourseats. The rear seats fold down for increased cargo space. The car is builtin the same Japanese plant as the Acura NSX sports car, and the qualityof fit and finish on our car is excellent. Honda plans to lease about 400EV+ cars in California in 1998 in order to evaluate the driving habits andcustomer lifestyles of potential EV owners. The EV+ is not for sale; itis available only through Honda's 36 month "Charter Lease Program."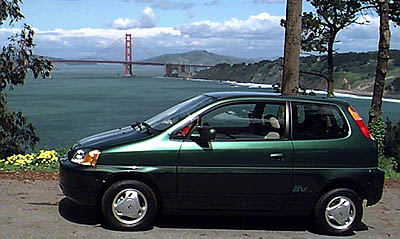 Performance
Range: EPA city driving is 100 miles, highway 84 miles. Our real-worldexperience shows these numbers to be quite accurate. Acceleration: 0-30in 4.9 seconds, 0-60 in 17 seconds (the car's performance is optimized forcity driving, although freeway performance is also quite good). Top speed:80+ mph (we've driven ours at 76 mph ... solid, and felt like there wasstill room to accelerate to pass if we needed).
Drivetrain / Batteries / Charging
Motor: high-efficiency, permanent magnet. Power output: 49kw (approx66 hp) @ 1700-8500 rpm; torque is 275 Nm (203 lb.-ft... it loves hill climbing!)@ 0-1700 rpm. Batteries: 24 12-volt nickel-metal hydride (NiMH ... no "memoryeffect"). Transmission: 1 speed, direct drive. Charger: on board (110vor 220v power supply). Recharge time: 6-8 hours (220v from 80% discharge).Honda required EV+ owners to install a 220v regulated/isolated power supplyin their garage for charging the vehicle (our installation cost was $1905.00).
Chassis / Suspension
Front wheel drive, unit-body construction w/integrated large cross-sectionstraight frame rail. Front strut / rear beam suspension. Electric, variablepower-assist rack and pinion steering. Grade-sensitive regenerative brakingwith ABS (regeneration allows you to "recapture" expended poweron downhill runs by using the motor as a generator, thus extending the car'seffective range). 14" alloy wheels with low-rolling resistance 195/65R14 tires.
Comfort / Convenience
Power windows, door locks, mirrors, with automatic climate control forheating and cooling (the car has a "heat-pump" style climate system).AM/FM/CD; multi-function remote (you can "precondition" the cabintemperature or read how charged the batteries are from the remote!) withkeyless entry to arm/disarm the security system. Heat-reflecting glass.A friendly walk-in feature for rear seat access (and a flat floor to increaserear seat legroom), with split-folding rear seatbacks.
Safety / Security
Dual airbags with 3-point belts at all seating positions. Theft-deterrentsystem. Underfloor battery pack layout is protected by frame rails. Isolatedelectric-power control systems. Intelligent crash-detection system disconnectsall propulsion power. Energy-saving high-performance gas-discharge headlights.
Exterior / Interior Dimensions
Wheelbase: 99.6 inches. Length: 159.3 inches. Height: 64.2 inches. Width:68.9 inches. Track (f/r): 59.1/58.7. Curb weight: 3,590 lbs. Headroom (f/r):39.7/38.2 inches. Legroom (f/r): 41.9/34.2 inches (yes, you're reading thatrear legroom correctly!). Shoulder room (f/r): 53.2/51.9 inches. Hiproom(f/r): 48.6/46.9 inches. Cargo space: 11.5 cu ft. Interior passenger volume:89.1 cu ft. Carrying capacity: 700 lbs (passengers and cargo combined).
Lease Terms / Purchase
The Charter Lease Program is a 36 month, all-inclusive lease. The leaseincludes all maintenence, 24/7 roadside assistance, collision and comprehensiveinsurance (the lessee must provide liability insurance only), and use ofa loaner if the car is kept for service. The Northern California lease priceis currently $454/month, and there is no buy-out option at the end of thelease. The car carried a sticker price of $53,999, although you cannot purchasethe car. The car is eligible for $4,000 in federal tax credits, and $5,000in California and Bay Area tax incentives (Honda uses this $9,000 to reducethe lease price to $454/month).
---
We took possession of our EV+ on March 11 after a lengthy approval process. For the next 36 months, we were committed to living withelectric transportation ... no fossil fuel car to fall back on. And so far,we're absolutely delighted with our green Honda EV+ driving experiences.
Trips We've Taken:
1) Just one week after we got the EV+, we took a full capacity (driverand three passengers) from San Francisco to San Mateo (about 45 miles roundtrip) for a dinner evening. The car was loaded to full weight capacity (about700 lbs). Our driving was a mix of freeway, city, and suburban streets.Traffic was very light, giving us a "no stops and starts" advantagein range. On return to San Francisco, we had about 40% charge remaining.So weight is a decisive factor in the range of the car. A similar trip takena week later with just the driver resulted in a 50% charge remaining. Usefulinfo for planning trips with friends along!
2) Emboldened by our San Mateo outing, we planned a Saturday trip downthe Pacific Coast Highway (US 1) from San Francisco to Half Moon Bay. Justa driver and single passenger, this was a 66 mile round trip. Our drivingwas a mix of city, suburban, and rural roads. We had to climb over the coastalrange of mountains in San Mateo county (we travelled by the Skyline Roadthrough Pacifica to US 1 route). Our fairly steep climbs were matched bysimilar descents, giving us a regenerative braking advantage in range. Onreturn to San Francisco, we had about 30% charge remaining. This trip (whichwe've now done twice) has given us confidence to plan our next trip: anovernight outing to Dillon Beach (about 60 miles from home) where we willhave to rely on our 110v charger to provide sufficient charge for our returnhome! Details here when we take the trip in early June.
3) We tried a little experiment in charging the EV+ on 110v: we dischargedthe batteries to about 50% charge, then hooked up our car to 110v insteadof 220v. Twenty hours of charging later, we were at 90% charge. Talk aboutslow! But considering the 110v charger draws a meager 12 amps instead ofthe 220v charger which draws 20 amps, the 110v charger is still "workable"for upcoming trip. Remember that the 110v charger had to be designed towork with a 15 amp household circuit!
4) Found a very cool mapping resource available for free on the web:from Lucent Technologies, MapsOnUs.I used it to plot shortest route, fastest route, and scenic route from ourhome address to the house we're renting up north. It plotted fairly accuratemaps, and gave me confidence that the scenic route we're planning is wellwithin the capability of the EV+.
5) On Friday, June 5, we set out from San Francisco to drive north toDillon Beach, CA. According to MapsOnUs, this would be a 61.6 mile tripeach way. Since we were renting a house and staying for the weekend, we'dhave plenty of time to charge on 110v. We chose the scenic route, across the GoldenGate Bridge to US1, driving along the scenic Pacific Ocean cliffs in Marincounty, along the eastern shore of Tomales bay. This route is a mix of urbanstreets, freeway, two-lane road, and at elevations ranging from sea-levelto about +1500 feet. The route is extremely twisty, and very hilly. Thesun came out as we drove through the Marin headlands, and the day was spectacularas we reached Stinson Beach. Almost no traffic, so we took our time drivingnorth. We stopped for lunch at the quaint Angel Cafe in Tomales where wemet up with our friends with whom we were sharing the house. We averaged10.1 miles per bar (1 bar = nominal 10% of charge) over the actual 64.2miles of the trip. On arrival at the rental house, I discovered that allthree 110v wall plugs in the garage were dead ... and no breaker box inview. I lowered the garage door, and then unplugged the garage door openerfrom the ceiling outlet, and plugged in the EV+ for a 110v charge. Glad I rememberedto bring a long 10-gauge extension cord!
The weather steadily worsened over the weekend. Dillon Beach is at themouth of Tomales bay, and its windswept terrain reminded me of Nova Scotia'sCape Breton. Our house was atop a hill overlooking the small town. We weresurrounded by deer each morning and at sunset as they foraged in the yardfor grass. It turned out to be a good weekend for cozying up with a goodnovel and watching the weather roll through. After 24 hours, the EV+ wasat 90% charge; I thought "why not just leave it plugged in and seeif we can level it out to 100%?" After 44 hours, the EV+ was stillat 90%, leading me to conclude that you'll never hit 100% charge on 110vand 1kw charging.
We set out Sunday afternoon for our return to San Francisco. The weatherwas misty, cool, and belts of fog were rolling through the hills as we beganour drive. The mists soon turned to a light rain as we headed south on US1. The fog and light rain lent an etherealair to our trip in the EV+. Gliding silently down the road, along precipitouscliffs and through stands of eucalyptus trees, slicing through the mist,we were inspired to listen to the CD "Duality" by and Pieter Bourke. The enchanting rhythms combined with Lisa'shaunting voice really made the drive an "other-worldly" experience,and the EV+ sound system made an otherwise dreary trip a genuine adventure.In fact, Blue and I agreed that the trip home in the EV+ was one of ourbest road-trips ever! Traffic was again light, and we averaged 10.2 milesper bar on the return trip, arriving home with just under a 30% charge remaining.
6) Thank heavens for the ABS brakes in the EV+! On my way to work thismorning, some drug-crazed idiot cab driver from San Francisco's Yellow CabCoop ran a stop sign and I nearly broad-sided the cab. I would have hitthe cab squarely on the rear right side. His "fare" had her armsup over her face in an "oh no!" I panic stopped ... no time tothink about doing anything other than slamming on the brakes. The EV+ stoppedquickly, in a straight line with no fishtailing. The cabbie didn't botherto stop (of course), despite the fact that I missed him by about 3 or 4inches. Once my heart rate returned to normal, the EV+ and I continued onour way. I'm glad we didn't have to test the airbags.
7) We're remodelling the bathroom at home, and the EV+ has been pressedinto use as a Home Depot shuttle. Yesterday, I folded down the back seatsand managed to squeeze in a new toilet and seat, bathroom sink, vanity cabinet,towel bars, shower curtain rod, two cartons of ceramic tile, and a couplegallons of paint. There was even room left over for a front seat passenger!The EV+ has lots of flexible space. We routinely make a Costco and grocerystore run on the same trip.
Written by: Dan's Honda EV+ Page
RELATED LINKS:

Updated Daily!
* * * IN-HOUSE RESOURCES * * *