ELECTROMAGNETIC FIELDS
BIOLOGICAL INFLUENCES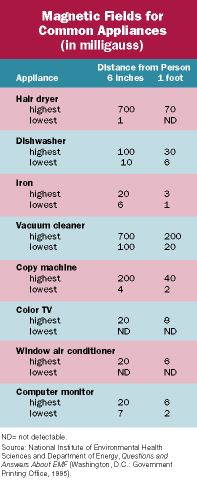 Several years ago, Cindy Sage hired an electrician to install a new light in her daughter's bedroom. After he left, Sage swept the room with a gaussmeter to measure the magnetic fields present.
In some 98 percent of U.S. homes, the average strength of magnetic fields ranges from 0.5 to 0.9 milligauss (mG). Until the electrician's visit, the field in Sage's daughter's room also fell within that range. Afterward, it was 3 mG.
Although that reading is somewhat higher than normal, it falls well below the federally permitted 1,000-mG limit for U.S. workplaces. However, this didn't reassure Sage, a Montecito, Calif.-based consultant specializing in electromagnetic field (EMF) issues. The workplace limit "is based on the faulty assumption that only thermal, or heat, effects are important as a potential biological hazard," she says.
Sage called the electrician back to find out what he'd done. It turns out that he hadn't wired the light according to the electrical code. When he rewired the room, its average field dropped to 0.2 mG.
Electromagnetic fields are invisible lines of force that surround all electric devices and wiring. Concern about the potential health effects of these fields was catalyzed in the late 1970s by studies suggesting an association between childhood leukemia and proximity to certain types of power lines or equipment, such as utility transformers.
Several studies suggest "a doubling of childhood leukemia incidence between 1 and 2 mG" and up to a sixfold increase for exposures between 4 and 5 mG, says Sage. There have even been hints of a breast cancer risk in adults exposed to high fields.
More recently, several other sources have been added: large currents on the job, poorly grounded wiring, and appliances (see table). Magnetic fields do not necessarily correlate with the size, power, or noisiness of a device. Moreover, there can be a tremendous difference between models of an appliance. Because it's difficult to shield oneself from magnetic fields, the only practical way to limit exposures is to put distance between oneself and the source.
Sage conducts sweeps of magnetic fields in her clients' homes, offices, schools, and hospitals. She deploys electricians to fix any fields that run dramatically above the national norm. Usually, they trace to code violations that prove easy and inexpensive to fix.
A 1996 report issued by the National Academy of Sciences concluded that while EMFs appear capable of affecting biological tissues, their link to cancer remains unproven. However, Sage argues that until or unless EMFs are exonerated, avoidance of them is a reasonable policy.
Richard G. Stevens of the Department of Energy's Pacific Northwest National Laboratory in Richland, Wash., emphatically disagrees, arguing that it's premature to sweep homes or even to advocate prudent avoidance. That's not because he believes EMFs are necessarily benign. Indeed, he is the father of the 10-year-old "melatonin hypothesis", a theory that exposure to certain EMFs may trigger cancer, especially in the breast, by perturbing the body's natural concentrations of this brain hormone.
He says that many questions remain about what types of fields and features of exposure -- such as timing -- underlie any risks. The problem with prudent avoidance is that it may make people less willing to act if the risks are later proved more circumscribed.
Stevens doesn't challenge the idea that fields can bring about potentially disturbing biological changes. Indeed, new studies describing such effects were presented 7 weeks ago at a U.S. Public Health Service conference he helped organize in Washington, D.C. The studies demonstrated a hitherto unrecognized responsiveness of cells, tissues, and animals -- even humans.
CONTINUED ON NEXT PAGE -->Written by: Janet Raloff, Science News Online
---
RELATED LINKS:

Updated Daily!
* * * IN-HOUSE RESOURCES * * *