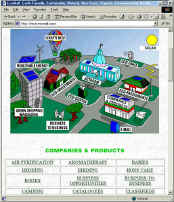 I would like to thank you for this excellent site! It is so helpful.... I can't tell you how easy you have made my online shopping, browsing, and education. Thanks for the time and effort you have spent making our lives easier (and safer!).
Carrie Spanton
Kentucky
EcoMall THE BIGGEST source of links for any remotely environmetally-related
Northwestern University - Outdoor Links n
EcoMall: A place to help save the earth. One of the best eco-friendly consumer sites on the Internet. Large set of links to "green" Internet stores, as well as great information for consumers trying to make the best decisions for the environment. - Lewis & Clark College
Salutations! My name is Tara and this is my first trip to your web site. I absolutely love it! Three cheers for you guys.
You've done a wonderful job on your site! Dorothy Brinz (Vegan) Fox Island Tea
EcoMall: A Place to Help Save the Earth
EcoMall: A huge and much acclaimed mix of activism and green consumerism. In the mall sections you can quickly and easily locate your nearest purveyor of organic food, learn about green investments or source a mail order solar panel. Invaluable too for its links to dozens of activist environmental groups. Also a daily digest of environmental news and regular action alerts.
Indiana University of Pennsylvania.
I like the diversity and apparent complexity of your site. - Jennifer Hendrix
Greetings, I just wanted to thank you for the wonderful resource you provide. I value your site alot. [:
Thank you so much,
Renee
EcoMall - Site with vast amounts of useful environmental information - Cetambio, Lda. Todos os direitos reservados.
I really liked it very much , what a tremendous ammount of information it is unbelievable . Best Regards and continue with that excellent work - Dieter Beick
I used your guide to vegetarian restaurants a few weeks ago when I was in Alaska. Thanks for posting it - it was very helpful.
E.Krell
ECOMALL Cares about the environment and wishes to let people know that there are eco-friendly products out there that you could use. - Bloomington Public Schools
Green Shopping Magazine - a comprehensive mix of articles on green shopping topics that concern everyone who wants to live a healther, more environmentally conscious lifestyle. - The Gathering Web
ECO ACTIVISM - A site giving access to protest organisations, places, dates ect. If you care, and want to play an active role in trying to make the world a better place, active protest is strength in numbers!! - Activism Online
I really enjoy the ecoquotes.....
Richard M. Rollins - Endangered Spaces Project
Ecomall - THE BIGGEST source of links for any remotely environmetally-related - Northwestern University
Eco-Mall Ecologically and environmentally friendly products, services, and information. Covers restaurants, businesses, investments, activism, communications, and renewable energy. Many products and services are advertised or listed, organized by category or product. EcoMall is a comprehensive resource for those who want to make their lives more environmentally responsible. A wide array of products and services is listed along with ordering information. If a topic is not covered here, the site's substantial link directory likely will be able to connect to a site that provides coverage. (review by: Four Star Superior from Newsweek -Britannica).
THANK YOU ALL
SO MUCH!
ECOMALL



Shop by Keywords Above or by Categories Below.

Updated Daily!
* * * IN-HOUSE RESOURCES * * *