With Amy Todisco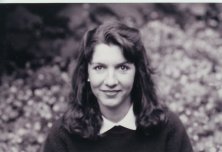 Are you concerned about what you and your family eat? In this synthetic chemical age itís wise to be informed about what may be in the food that we eat. Even if your pantry and refrigerator are loaded with fresh, certified organic whole foods, there is more that you need to know about your food, how itís prepared, and what toxic chemicals might be lurking in your kitchen. Join Amy Todisco as she takes you through a brief tour of a typical American kitchen and offers tips on how to make yours a healthier haven. If you want more information, feel free to email Amy at: atnontox@aol.com with your questions.
---
BIOENGINEERED FOOD:
RESPONSIBLE SCIENCE OR
X FILES EPISODE?
Insect resistant "Bt crops", RoundUp Ready soybeans, rBGH hormone, and "terminator" seeds...the list continues to grow. No one is regulating genetically engineered organisms adequately or properly testing them for safety. Don't bother looking for any symbol or indication of genetic engineering on the food product's label-it isn't there, the Food & Drug Administration and Biotech industry don't think we need to know. Any health risks will only be discovered by trial and error-we, the consumers, are the guinea pigs. Nonetheless, 73 million acres of genetically modified crops sprouted up worldwide, over 50 million acres in the United States. Before 1995 there were no genetically modified crops grown for commercial sale. Some of the genetically engineered crops grown today are: corn, tomatoes, squash, soybean, cotton, potatoes, canola, and dairy products from cows injected with rBGH, a genetically altered hormone used to increase milk production, all with thoroughly unknown consequences. The only food that is completely free of genetic engineering (among other things), until further notice from the USDA, is certified organic food. (Beware of processed foods that contain some organic ingredients- if they're not all certified organic they may be bioengineered).
What does Genetically Engineered mean?
In Monsanto's version of reality, they depict biotechnology as just another example in a long line of human modifications of food, like fermentation. Genes are the blueprints for every part of an organism. Genetic engineering is the process of combining genes from one species with genes from another species. In other words breeders bring genetic qualities from anywhere in nature to another unrelated species. For example, in the October 25, 1998 New York Times Magazine article, "Playing God in the Garden" by Michael Pollen, he mentions a German genetics experiment that went awry. Scientists spliced the genes for redness into the petunia. Everything seemed to be going well in the field of red petunias until a hot spell struck and all the pigment in the petunia petals mysteriously disappeared.
Why Genetic Engineering?
Scientists believe that bioengineered food can feed the world by increasing yields, reduce farmer's costs (by allegedly reducing the amount of expensive and toxic chemical inputs), and improve health and nutrition by selecting out certain desirable traits from one organism and injecting those genes into another organism. So, if you want to raise salmon year-round in a northern climate, splice in the frost-resistant gene from a flounder. Scientists are pushing genetic material across natural boundaries. "Biotechnology offers a way to continue ignoring underlying problems, and perpetuates the myth that the inherent ecological limitations of a nature-denying way of life can simply be engineered out of existence", according to Brian Tokar from Goddard College, Institute for Social Ecology.
What are some of the genetically engineered crops already on the market?
Some of the genetically engineered crops grown today are: corn, soybean, cotton, potatoes, canola and sugar beet, all with thoroughly unknown consequences. Most of these bioengineered crops have been designed to either produce their own pesticides or withstand herbicides. It is estimated that over 30,000 food items are already on the shelves of our local grocery stores that contain genetically engineered ingredients. 60% of all processed foods contain corn or soy derivatives (soy protein, lecithin, dextrose, soy and corn oil).
rGBH:
It is estimated that 10% of U.S. dairies are injecting their cows with rBGH, a genetically engineered growth hormone designed to increase milk production. "The FDA has been presented ample data that the levels of IGF-1 (Insulin-like Growth Factor) are elevated in milk from rGBH treated cows. IGF-1 is thought to be an important growth factor in breast cancer, prostate cancer, and colon cancer." (Seeking the Withdrawal of Approval for Posilac, by Andrew Kimbrell & Joseph Mendelson, III, International Center for Technology Assessment). The utilization of rBGH is credited with the rising use of antibiotics to treat mastitis and udder infections. The product label also acknowledges that rGBH's use causes painful debilitating foot disorders and reduced life spans in dairy cows. Vermont is the only state that allows product labels to read "rBGH free".
Roundup Ready:
Are you Roundup Ready? Roundup is the name of one of the Monsanto Corporation's best selling glyphosate-based weed killers. Monsanto has developed genetically altered varieties of soybeans, corn, canola, and sugarbeet that are resistant to it. Now farmers can spray even more Roundup on their crops to kill the weeds, but not the crops. The result is further contamination of food, soil, and water, toxicity to animals & plants, reduced soil fertility, and the unknown effects of gene pollution.
Pest-resistant Bt crops:
Insect resistant potatoes are in a store near you which have been genetically engineered to contain their own pesticide. And which pesticide did Monsanto choose? Bacillus thuringiensis, or B.t., the same natural insecticide that organic growers have used in certain circumstances for years. Every cell of the resulting plant will contain Bt so that an unsuspecting caterpillar that eats any part of the plant will die, until caterpillars develop "resistance" to the Bt toxin. The widespread of use of Bt in biotech crops is predicted by some scientists to render Bt useless to organic growers within 4 years due to insect resistance.
"Terminator" Technology:
The "Terminator" technology, developed with taxpayer money by the U.S. Department of Agriculture but patented by a Mississippi-based seed company that Monsanto recently purchased, will allow Monsanto to enforce its patents biologically. Certain genes can be spliced into a plant which will cause the seed produced by that plant to be sterile. Farmers will be forced to purchase new seeds from Monsanto every year instead of the time-honored seed saving. Guess who's making the money? We're losing control of the food system. Imagine if Monsanto achieves their goal of having other Nations grow their staple foods with these Terminator seeds that must be purchased year after year. Corporations will truly control the world.
What are some of the dangers of bioengineered food?
As with any new scientific procedure, there is great uncertainty and concern for dangerous consequences in our environment and our food chain with genetically engineered food. Genetic engineering creates new allergens in food. There will be an elevated use of chemicals on crops, like Roundup, and an increase in the development of herbicide-resistant weeds. There could also be unpredictable mutations of the genetic code in a new bioengineered organism causing new diseases or weaknesses. Like pesticides, genetically engineered organisms don't stay put. Bees can carry pollen from these new "frankenplants" to a wild organism or another nearby farmer's field. This could seriously impact organic grower's ability to maintain their organic certification standards. And what's really scary-now that they've been released into the environment, genetic mistakes can never be contained or recalled. This must be an X Files episode!
What You Can Do:
Choose 100% certified organic foods.
Encourage your grocery stores to stock products that don't contain Genetically Engineered foods.
Click below to e-mail this article to a friend
or to post a link on your favorite sites.
Thank you!
READ PAST "ASK AMY" COLUMNS:
---
Amy Todisco is the president and owner of Green Living Now, LLC. In addition to serving as an "Environmental Expert" on the EcoMall website ("Ask Amy"), she's also featured on former National Public Radio host, Laurie Howell's, The Green Scene Internet radio program. She's created community educational events, founded and co founded several nonprofits; served as Executive Director for two nonprofits; provided presentations on household toxics; consulted with private and public schools; churches, community groups, local boards of health, and the MA State Department of Public Health; written on the topic of household toxics for newspapers, newsletters and websites; and been interviewed on radio and cable TV.
---
RELATED LINKS:

Updated Daily!
* * * IN-HOUSE RESOURCES * * *